A History of Youth Information in Europe
On 17 April each year we celebrate European Youth Information Day! The day is coordinated by the European Youth Information and Counselling Agency (ERYICA) and this year #EYID2017 focuses on the reliability of information in the 'post-truth' era. ERYICA invites youth workers and young people to take a moment to create memes that begin with "Who told you…" and spread the message of the need for reliable sources and a critical view on information.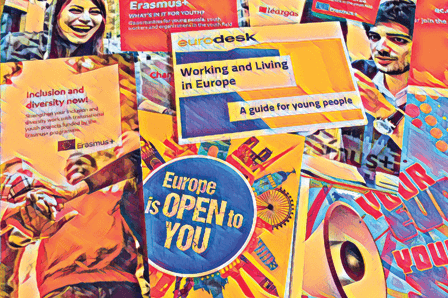 In this week's blog Malgorzata Fiedot-Davies, our Eurodesk Coordinator, charts the history of Youth Information in Europe from its inception in the late 1950s to today.
Eurodesk Ireland is very proud and happy to cooperate with all youth information services in Ireland providing European youth information for free to young people and those who work with them. To celebrate European Youth Information Day let's take a journey through the history of this valuable resource for young people!
1950s:
Specialised youth information started in Europe in the late 1950s, when information offices for internal migrants opened in Finland. These offices supported young people who had moved from the countryside to the big cities. The underlying idea of youth information was to orient young people when faced with new, complex surroundings and questions.
1960s:
The first 'walk-in' centre for young people opened in London in 1961. The "Young People's Consultation Centre" was the first place where young people could directly approach a professional with their issues.
This 'open door' concept spread in the second half of the 1960s. The founders of the Centre for Youth Information and Counseling 'Info Jeugd' in Gent, Belgium and the Advice Centre for Young People (Jongerenadviescentrum) in Amsterdam, Netherlands wanted to break from the old model of youth assistance. Youth assistance had traditionally been bureaucratic and formal: meetings were by appointment only, there were waiting lists and the approach to young people was psychiatric-medical. The open door concept broke away from this approach.
1970s:
Youth Information spread all over Europe and developed into an integrated part of youth work in many countries.
1980s:
In Strasbourg in 1985, youth information and counselling were prioritised at the First European Conference of Ministers responsible for Youth. Youth information and counselling were cited as priorities for future action and co-operation at European level. As a result, the Council of Europe established the Committee of Experts of Youth Information in Europe.
1990s:
In 1990 the Council of Europe Committee of Ministers issued a recommendation concerning information and counselling for young people in Europe (Recommendation 90).
In 1993 ERYICA adopted the first version of the European Youth Information Charter which describes the underlying values, principles and working guidelines for youth work.
In 1997 the Council of Europe decided to strengthen its involvement and dedication to the issue of information and counselling for young people in Europe, based on the belief that information is a right for all people (as defined in the Convention of the Protection of Human Rights and Fundamental Freedoms in general and the Convention on the Rights of the Child in particular).
2000s:
Youth Information faced a huge change when the Internet became a source of information for all. The profession had to redefine its tasks and role. ERYICA adopted the revised European Youth Information Charter, 2004 and transformed even more into a service focusing on orientation and guidance.
In 2009, ERYICA adopted the Principles for Online Youth Information.
2010s:
These days concepts have been developed all over Europe to 'meet young people where they are'. Involving young people directly as peers in the dissemination of information is central to the work of Youth Information. Therefore advocating for the right of young people to have access to all information, and supporting their need for autonomous decision-making, is of utmost importance to today's society.
---
Source: http://eryica.org/page/history-youth-information
We welcome contributions to 'Insights' at comms@leargas.ie.
Signup to our Newsletter