If you've browsed #ErasmusPlus on social media this summer you might have seen groups of young people from Ireland visiting places from Slovenia and Malta to Lithuania and Finland, exploring different themes with young people from those countries. You might be thinking an international visit like this would be a great opportunity for you and your youth group. Or maybe your group already know they'd love to do an Erasmus+ KA1 Youth Exchange, and want to find out where to start. Well here are some pointers on how to make it happen!
Get Inspired!
Check out some current and recent Youth Exchanges for an idea of what's happening: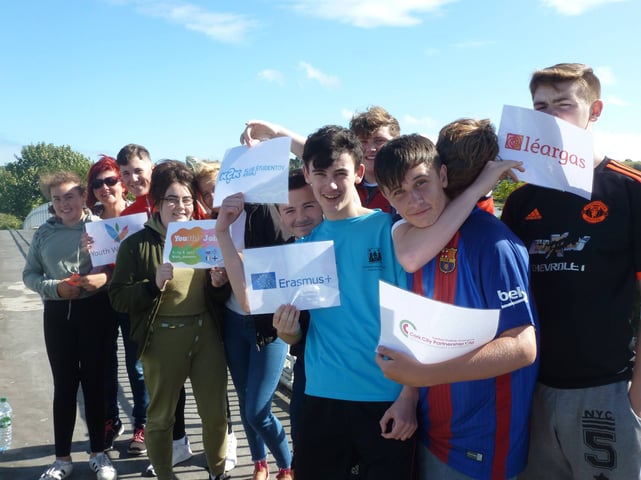 Ask your Youth Group what they want from a Youth Exchange
Chat with the young people in your group and find out what they would like to do or learn:
Do they want to meet a group from another country? Do they want to travel to another country to meet the group, or would they prefer to start by hosting a group in their own locality?
What kind of topics or themes are the young people interested in exploring? Do they want to share cultures? Do they want to talk to others about issues that are affecting them, such as peer pressure, identity, education or employment? Would they like to share a skill they have, such as media production, drama facilitation or active participation?
Consider how your Youth Group like to work
Do they love to use outdoor education or sports; are they motivated by art or drama; is music something they connect with?
Explore how these interests can be used to address the topic or theme they want to work on with the partner group.
On a recent Youth Exchange, The Key, young people and youth workers from Limerick Youth Service visited Malta to explore creativity and work.

Find Partners to Work With
Now that you know what the group want to work on and the methods they love to use, the next step is to find a partner organisation to carry out the project with. There are a couple of ways to do this:
Sign up to the partner-search facility on the SALTO Youth Network. Fill in a profile to register your group as actively looking for a youth exchange partner. You can also search for possible partner groups from across Europe and email the interesting ones directly.
Sign up to the Léargas Youth newsletter to get regular updates on training events and other opportunities to meet international partners.
Take a look at our Youth training opportunities page or the Salto Training calendar for thematic training courses with the added opportunity to meet youth workers from across Europe.
Check out what groups in your area have done in past international projects. Have a look at our funded projects lists, or browse the Erasmus+ Project Results Platform by searching 'Ireland' and 'Youth Exchange'. Local groups will be an amazing source of information, and hopefully will be generous enough to share their international contacts with you! There is nothing better than personal recommendations.
Ask your county or city council if they are engaged in a Town Twinning project—they may have good contacts to share.
Build the Relationship
When you find a potential partner, take some time to get to know each other and build a strong relationship. Get in contact by email, phone or Skype and chat about your group's challenges and talents, your values as a youth worker and the values of your organisation. Discuss what motivates you and how you like to work. The better your relationship with your partner, the easier it will be to resolve any challenges and plan a great exchange!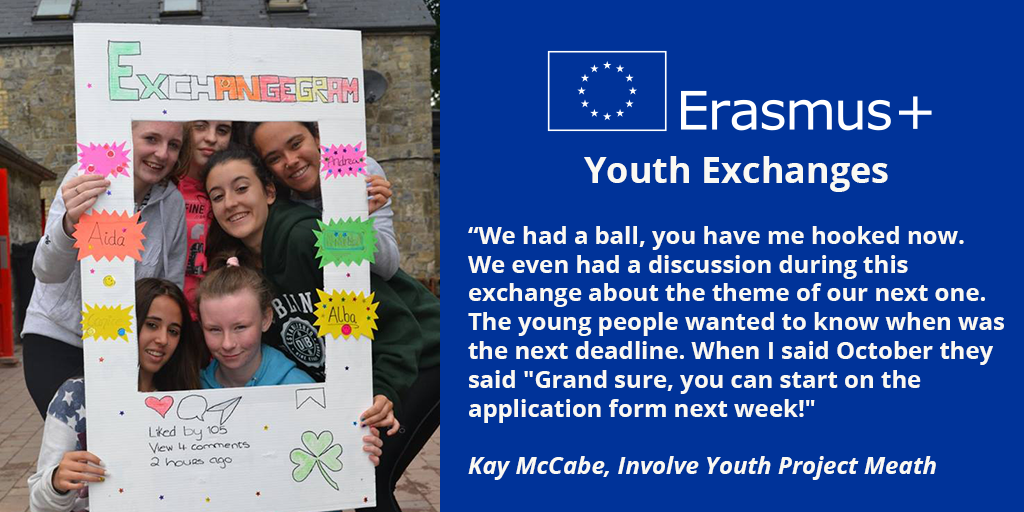 Plan your Project Application
If you have that excited feeling and believe you have found your perfect match, the next step is to get the facts about Youth Exchanges: when to apply, how long the project lasts, and the application process!
Begin with a look at our 'How to..' section, and then check the specifics in the Erasmus+ Programme guide.
Know the Erasmus+ deadlines: there are three every year for Youth activities. Decide which one suits best for your planned project, but remember that the project dates include preparation time for your group, the exchange itself, the evaluation and follow up phases. It's best to pick the deadline that gives you the most time for preparation before the actual exchange. Think of extra time to get those flights cheaper, extra time to get the group ready, extra time to secure the perfect accommodation…basically, extra time = less stress!!
We hold application workshops before every deadline to help you finalise your project plan and find your way through the electronic application form. These will be announced in our newsletter and listed on our calendar.
Submit your Application!
Read our application tips blog and make sure you submit well before the 11 a.m. deadline!
If it happens that you're not successful on your first application attempt, don't despair. You can always apply again under a future deadline, and you'll get advice from Léargas on how to make your application stronger next time out.
Remember that the Client Services team and our Inclusion Officer are on hand to help you through this process and help you make your young people's dreams come true.
And finally - good luck!! It is a life-changing experience and worth all the effort!
---
Would you like to share your Youth Exchange experience? We welcome contributions to 'Insights' at comms@leargas.ie! An earlier version of this blog appeared on NYCI Youth Arts. Images by Emmanuel T, Involve Navan and Youth Work Ireland Cork, used with their permission.