Happy birthday, eTwinning! Thursday 7 May 2015 marked ten years since the European Commission launched the online platform that connects schools and develops collaborative learning for both teachers and students. Since then eTwinning has become a massive online community spanning the whole of Europe, and recently registered its 300,000th user. This graphic from www.etwinning.net shows the remarkable growth of eTwinning since 2005: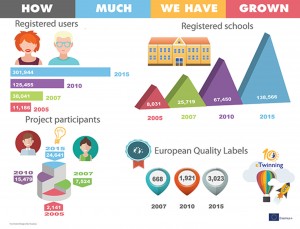 In Ireland the reach of eTwinning has been equally impressive: while there might be ten candles on the cake for years, there would have to be 159 for currently running projects and close to 1100 for schools registered! While Léargas' resident bakers couldn't stretch to a cake quite that size, we did mark the occasion with a special eTwinning chocolate cake and a selection of fruit in the signature eTwinning blue and yellow.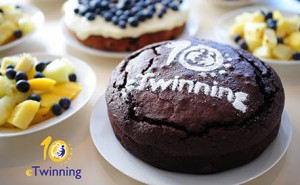 Birthday cakes were a feature at the many schools around Ireland that celebrated eTwinning day, but some schools found extra-special ways to mark the event – clearly eTwinning encourages creativity in celebration as well as in collaboration! Experienced eTwinner Brendan O'Dwyer teaches at St Michael's Boys' National School in Mervue, Co.Galway, and he reports that the whole school joined in the day:
"All classes went outdoors to form a massive circle around the letters 'EU'. Pupils also created an exhibition of their European work in the hall. This work featured historical, geographical, cultural and institutional aspects of Europe. Pupils also displayed the eTwinning Quality Label Awards that the school has received over the years. There was a special eTwinning cake to mark the 10th anniversary. During the day all classes visited the hall and each pupil marked his country of origin with a pin. Derek Nolan TD briefed the pupils of the senior classes about the workings of the European Union and also hosted a question and answer session. Pupils were delighted to guide him around the exhibition area and tell him about their work. Teachers and pupils were delighted with the events of the day."
The celebrations in St Michael's were not confined to the school alone: each country in their eTwinning partnership created a special video that was played to all the classes. You can view these videos here, and see more photos of their eTwinning day celebrations on the Léargas Facebook page.
Meanwhile, and not too far away, the pupils of Kilglass National School in Co. Galway were enjoying eTwinning Day with their own activities. The school has been involved in eTwinning for some years and teacher Peter Kane notes "it was an original eTwinning project that inspired the current, successful Comenius project the school is part of". Peter told us:
"eTwinning day for the children of Kilglass was a fun-filled day with a range of activities to celebrate eTwinning and their strong European links. Pupils studied EU countries and capitals while engaging in various art activities, including designing and colouring EU flags. Senior classes designed birthday posters, and all children were treated to samples of food from various EU countries, including Spanish omelette and Parma ham. Other highlights included a Skype session with an eTwinning Spanish school and a quiz about EU capitals.
However the biggest buzz for all ages was the afternoon release of eTwinning birthday balloons hand-decorated with various messages and logos. A unique way to celebrate the programme's success and to spread the eTwinning message at the start of its eleventh year. A fun day was had by all!"
Kilglass N.S. students with their artwork and balloons
Thanks to all the schools who shared their days with us, and here's to many more birthdays for eTwinning!
---
Check #etwinningday on Twitter or the eTwinning 10 website to see how other schools in Ireland and right across Europe celebrated the day. Click here to find out more about eTwinning.