European Youth Week 2017

Events took place across Europe in early May as part of European Youth Week 2017. The events celebrated 30 years of Erasmus+ and highlighted some of the programme's themes like solidarity, inclusion and youth employability. Our European Youth Week Coordinator, Deirdre Quinlan, brings us around the country to the various Léargas regional events that took place to celebrate the week. Read about the 'Living library' methodology and the many positive Erasmus+ experiences of those who have taken part.

European Youth Week 2017: Promoting Solidarity
Over the course of 30 years, European programmes have reached the lives of more than 9 million direct participants, not to mention the indirect impact they have had on so many others. What began as Erasmus, an exchange for third-level students, changed over those thirty years to reach learners in all walks of life. The programmes had many different names, but in 2014 they merged together under the name Erasmus+! This year's European Youth Week celebrated Erasmus+ with events taking place all over Europe in the first two weeks of May. The events also highlighted the themes of solidarity, inclusion and Youth employability.

As part of these celebrations, Léargas ran several regional Youth Week events in Cork, Wexford, Limerick and Dublin. Participants learned about opportunities for youth in Erasmus+, with a special emphasis on the European Voluntary Service (EVS). EVS supports young people to take part in overseas volunteering for up to one year.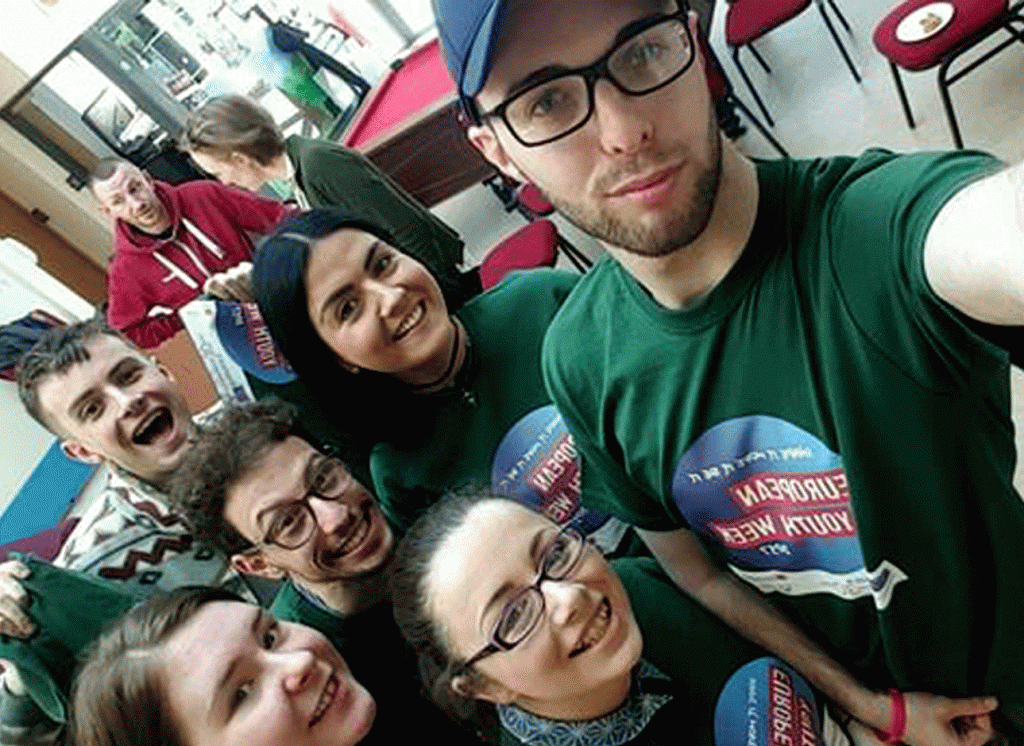 These events explored Erasmus+ as a tool for challenging prejudice and promoting solidarity. We used an interactive method called 'Living library' to create a space where 'books' were able to bring their stories to life, and share personal insight into their experiences of solidarity and challenging prejudice. It also highlighted for some how their involvement with Erasmus+ has had a very positive impact on personal and professional lives.
In the 'Living library' in Cork, Viv Sadd, coordinator of Mahon CDP saw that:
"The Youth Week workshop went really well with a lot of interest generated around EVS. The Human Library worked a treat and was quite special to observe. As 'books' we had an older person, a woman from the LGBT community, a Traveller and a woman with disabilities who all spoke about their life experiences."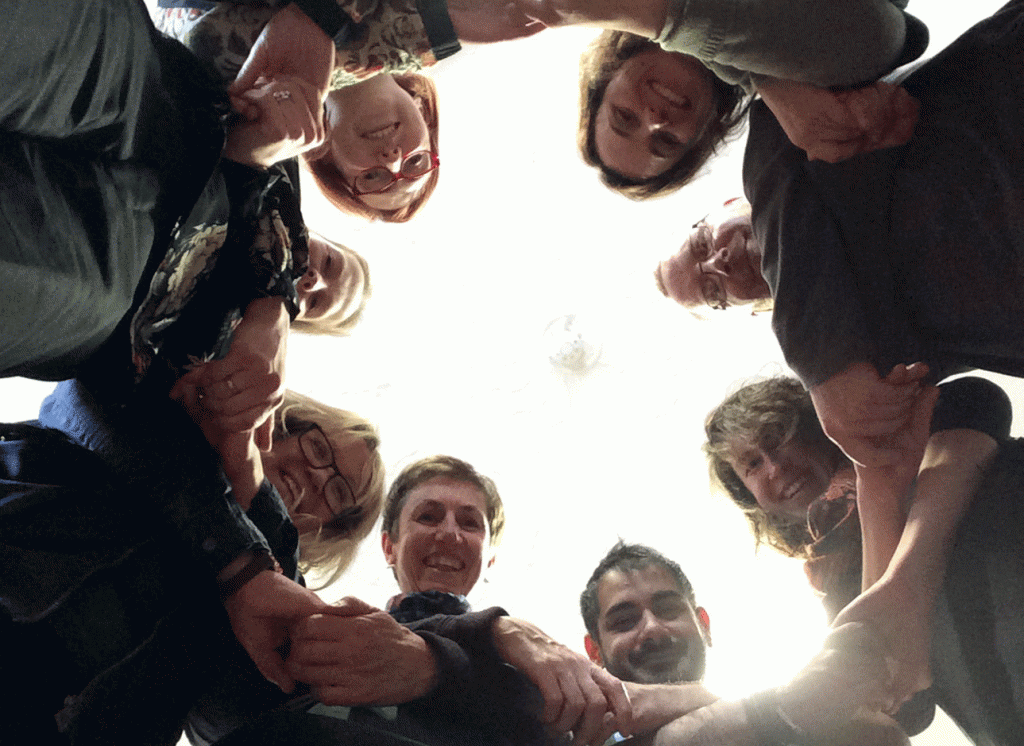 Stacy, a youth worker in Limerick Youth Service, shared her experience of participating in Erasmus+:
"My experience with Erasmus+ has been amazing over the last number of years. I first got involved as a participant on a youth exchange to Italy in 2009, and it sparked a love for international youth work with me. Since then I have taken part in leading exchanges abroad, hosting groups in Limerick for both exchanges and training courses, and attending various training events in Europe and Ireland. My biggest accomplishment was taking part in EVS last year in Kuopio, Finland for nine months. This was the first time I had lived away from my family and even just travelled abroad by myself. It was the best experience I ever had. International youth work is a key area of my work now. I'm interested now as a youth worker to create the same opportunities for the young people that I work with so they can benefit from the same experiences I had."
Alex Petrovics, Co. Wexford Roma Health advocate, attended the event in New Ross, Co. Wexford as one of the 'Living Library books' and shared his experiences of taking part in an Erasmus+ Youth Worker Mobility training last year:
"I was 26 years old and never cried in front of anybody. My emotions and feelings were something to keep to myself. Erasmus+ changed that. My experience in the 'Mask of Conflict' training course in Ireland was a positive one and changed the way I work and the way I express myself in my day to day life."
Youth worker Rachel described how the Finglas Youth Resource Centre has been involved in Erasmus+ projects for the last two years, both in EVS and exchange projects. These projects have enabled them to provide young people with new and exciting opportunities to broaden their horizons:
"We see Erasmus+ projects as a vital part of our work now and hope to continue to provide these great opportunities to the young people from Finglas for many years to come. Our advice to any organisation thinking about getting involved in Erasmus+ projects would be to try it. You won't regret getting involved!"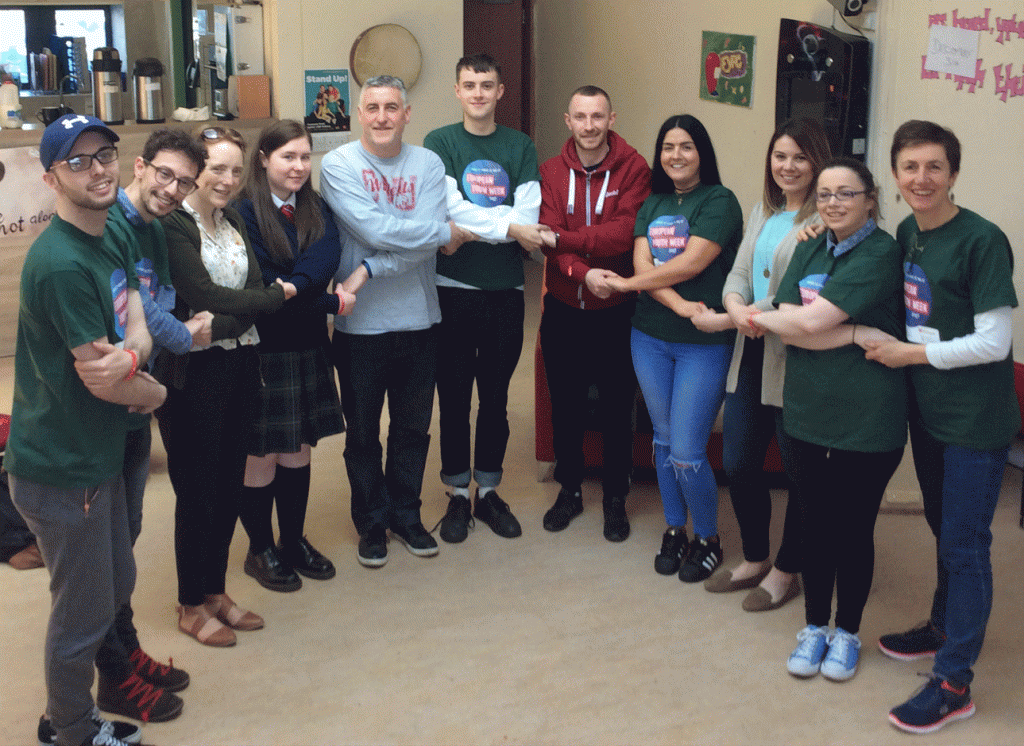 At each of the events, participants joined hands in solidarity to demonstrate their commitment to continue their work in building an inclusive and diverse Europe. Read more about European Youth Week 2017 events that took part all over Europe here.
---
Thank you to Deirdre Quinlan and all who contributed to this blog. Images courtesy of Deirdre Quinlan. We welcome contributions to 'Insights' at comms@leargas.ie.
Signup to our Newsletter