Youth Participation and the European Youth Goals
Pia Janning works on Policy and Strategic Alliances in Léargas. In this post she explores how you can connect Youth Participation and the European Youth Goals in your Erasmus+ project. We would also like to credit Tara Killeen from Maynooth University who was on her Community and Youth Work placement with Léargas recently and worked on making information and language around the Youth Goals more youth friendly.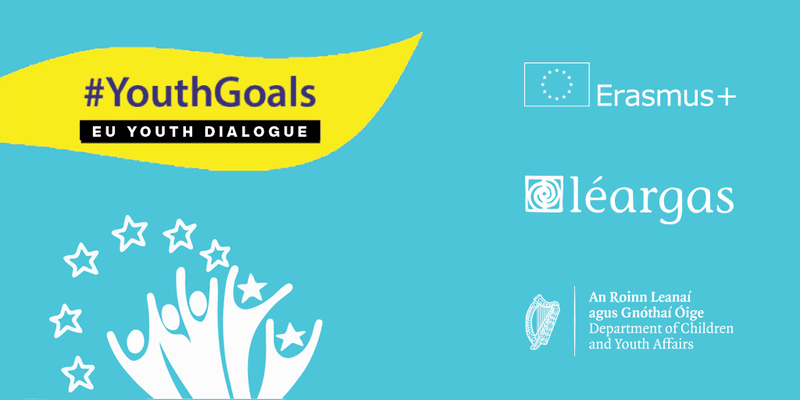 The European Youth Goals came about through the EU Youth Dialogue process. Youth Dialogue was the flagship participation methodology the EU used to engage young people and bring them together with policy makers.
The 11 Goals which emerged cover a diverse range of thematic areas such as connecting young people to the EU, mental health and wellbeing, gender equality, rural youth and quality employment. The Goals represent the concerns and issues of priority for young people from across Europe. 50,000 young people, including young people from Ireland, participated in a collaborative consultation with policy makers. You can read more or watch our videos to discover Youth Dialogue and the European Youth Goals in more detail.
Erasmus+ Youth Participation and the European Youth Goals
With the uncertainty of COVID-19 the past weeks have been a worrying and frightening time for us all. Nevertheless, hopefully this time also gives people the opportunity to get their creative hats on and to start thinking about the types of projects they would like to set up with the young people they work with.
Youth Dialogue "Support for Policy Reform" is now part of Erasmus+ Youth Participation. It supports projects that give young people the opportunity to come together with policy and decision makers. They become involved in decision making and policy processes that affect their lives. Many opportunities exist for projects to take place at a local, national or European level. The European Youth Goals, which cover a vast array of thematic areas, are an excellent policy tool for organisations to link to their project. You can find out more about Youth Participation on our website.
Discussing the benefits for young people
Over the past few days I've chatted with Dermot, Jean-Marie and Dean who contribute to NYCI's Young Voices Youth Dialogue process at a national level. Furthermore they've participated in the EU Youth Dialogue process at a European level, which led to the development of the European Youth Goals. We hope that their experiences and tips will inspire you to consider your own Youth Participation European project.
With this in mind here are a few key points from our conversations. Sit back, relax and watch the videos in full to find out more!
Young Voices delivers on the EU Youth Dialogue in Ireland and uses Erasmus+ funding to allow young people to influence policy.
Youth workers are encouraged to get involved with Young Voices and facilitate young people becoming change makers.
A diverse range of voices are represented in Young Voices and there is a particular focus on inclusion, a key priority of Erasmus+.
Young people have highlighted the importance of diversity when talking about the impact Young Voices has had on them. It has allowed them to hear the voices of young people they would normally not have the opportunity to meet.
Young people have a voice and want to make a difference; Erasmus+ projects enable them to do that.
If you feel daunted by the prospect of applying for an Erasmus+ project or engaging with policy and policy makers, there is support available from NYCI and Léargas.
Why not start a Youth Participation project at a local level on a local issue that has an impact on young people? You can then link in with Young Voices to bring your issue to a national and European level.
Participating in Youth Participation projects has shown that the same issues affect young people across Europe and even globally.
Youth participation is not about changing the young person, but more about changing the attitudes and behaviors of policy makers
It is ultimately about changing policy to bring about positive change.
Find out more about Young Voices on the NYCI website.
Youth Goals in Practice
The Goals can help you frame and benchmark your work as well as act as an advocacy tool, while also allowing young people to contextualise the issues within their own lives.
While there is no one size fits all approach, there is an element of solidarity within the Goals. Young people from all across Europe have identified them as priorities and can pursue the same goal within their own reality.
Many different decision makers can be involved in realising the Goals, such as local authorities, Gardaí, other decision-making structures, and your own youth organisation.
Organisations can take on the Goals within their own realities and use them to find connections between their work and that of others.
Structures in your local areas, such as PPNs or ETBs, will have their own plans for their work. Consider how the Goals fit within these plans.
Explore how the Goals map into your own strategic plan and the work that you're doing.
The sense that progress on the Goals is being made here at a local level as well as in other countries leads to a sense of solidarity, and the feeling that Europe itself is progressing in terms of young people's situations.
The Youth Goals are a great way of framing your European projects, whether Youth Exchanges, Youth Initiatives, Youth Dialogue, or European Solidarity Corps.
To find out more visit leargas.ie.
---
We welcome your contributions to 'Insights' at comms@leargas.ie.
Signup to our Newsletter