Developing 'Internationalisation Service Officers' with Erasmus+
In this post Colette O'Shea, Eugene Guiney and Laura Hogan of Munster Technological University (MTU) share an update on their 'ISO Erasmus Plus Project'. This Erasmus+ Cooperation Partnership in the field of Vocational Education and Training, uses European funding to explore a new role called the Internationalisation Service Officer which is of particular benefit to small and medium enterprises (SMEs) in Europe.
Introducing the ISO Erasmus Plus Project
The 'ISO Erasmus Plus Project', of which Munster Technological University is a partner, aims to create a new professional role, the Internationalisation Service Officer – and prepare the CCI and VET professionals who are working directly with the SMEs operating in the business areas of trading and services.
MTU Hosted Multiplier Event
An Erasmus+ Multiplier Event for the Internationalisation Service Officer project took place in the Solas Building of Munster Technological University on 25 March 2022. The event, coordinated by Dr Kristin Brogan (MTU), saw speakers Dr Gerry Gallagher (Managing Director, GBCL Governance Ltd) give a presentation on 'The Impact of Culture on International Business' and Mr Mika Heino (Expert of International Affairs, Omnia Finland) give a talk on 'How to Improve your Internationalisation Strategy'. Project Manuals and Videos were showcased by Sheila O'Mahony (MTU) with a demonstration of the project's app by Eugene Guiney (MTU) to wrap up the event.
Please see project website for further information: https://iso.erasmus.site/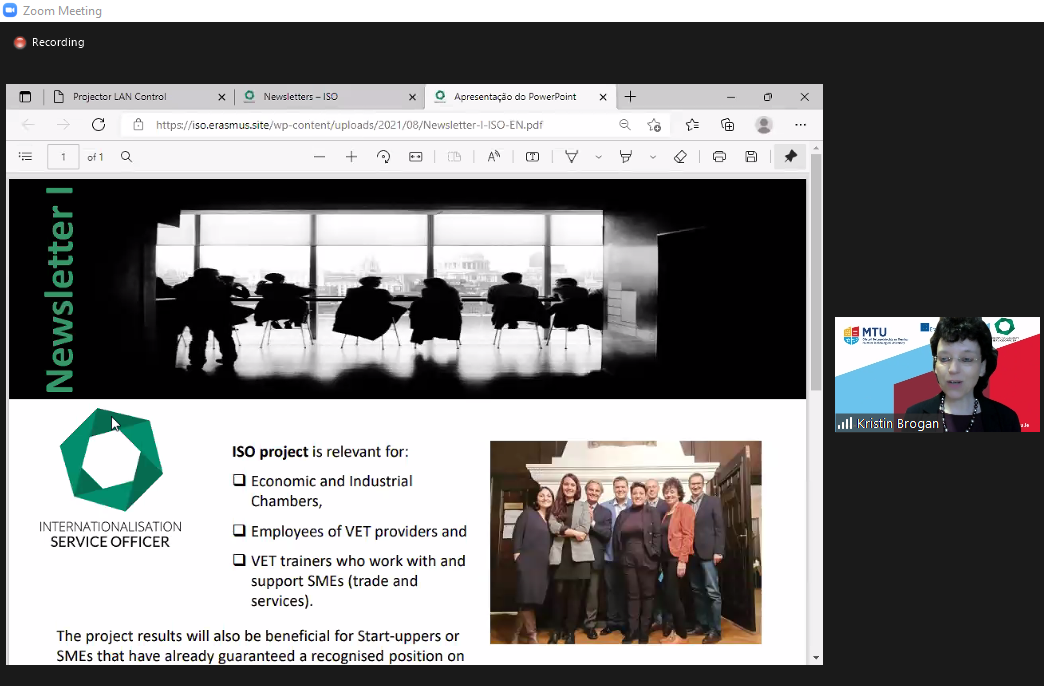 Internationalisation Service Officer training manual and videos
Internationalisation Service Officer (ISO) partners are very glad to announce that key project resources are now available on the ISO Erasmus Plus Project website.
You will find the ISO manual containing training materials related to the skills and knowledge required by this occupational profile to implement the key tasks required for the successful design and implementation of SMEs internationalisation strategy and plan. The manual focuses on the following topics:
Description of the ISO occupational profile,
Direct and indirect exporting,
Joint Ventures,
Foreign Direct Investment (FDI),
New technologies on duty of internationalisation and
The internationalisation strategy.
These training materials contain written resources and examples which are enriched with videos presenting internationalisation practical cases from different professionals across the EU.
All these resources represent key tools for students, workers and unemployed willing to acquire skills and knowledge related to the ISO profession, the services of which will be required even more by EU SMEs due to recent market and production trends.
Learn More
To learn more about Erasmus+ Cooperation Partnerships visit our Partnerships for Cooperation section!
Signup to our Newsletter