Early Childhood Education Can Benefit from Mobility Opportunities through Erasmus+
In this blog, learn about an early year's educators experience as part of Erasmus+ Funding in Early Childhood Education. Sharon Skehill, manager of the early childhood service, Newtown Kids' Club Ltd. (Willows and Nursery), talks about her experience of taking part in a mobility. As an early years educator, Sharon participated in two mobility projects with Early Childhood Ireland, one to Norway and another to Iceland.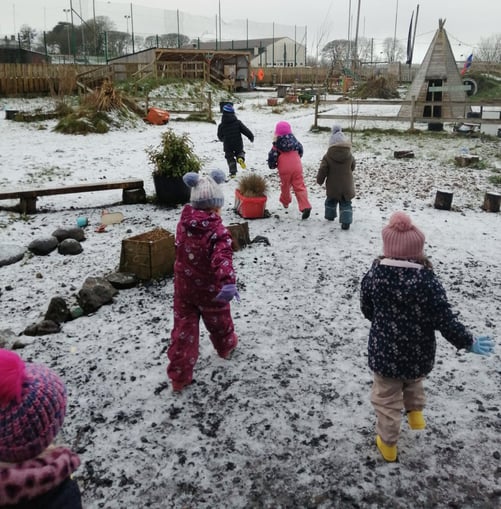 The trip to Norway, alongside fellow educators, and other stakeholders happened at a real pivotal point in my career in the early years and certainly changed the trajectory of my pedagogical practice as well as enthusiasm for the sector. Our visit included calling to several different kindergarten settings as well as lectures in the University about the Norwegian system of early years education.
What was particularly inspiring was the outdoor ethos of the settings, most of which provided full daycare for children aged 1 to 6 years. To see babies, toddlers and young children being so engaged in their play in the natural environment was really inspiring and there was a wonderful ease and sense of calmness in the outdoor spaces.
Similarly, in the settings in Iceland and the informative discussions with professionals and in the University there, there was opportunity to see the complexity and extent of learning and development that occurs in the natural world when there is that knowledge informing practice.
On arriving home, it certainly made us think about our 'bad weather' in the West of Ireland and to change our perspective to instead think about 'cold weather' or 'wet weather', thereby creating an ethos of positivity about our place. Although already having a passion for the outdoors, the mobility projects inspired us to see the potential in our locality, and to really consider how we are understanding the 'competent and confident child' that Aistear (the early years curriculum framework in Ireland) talks about.
Seeing the babies and toddlers in forest schools and the way in which the educators in Norway guided and scaffolded their learning and exploration has inspired us to provide such opportunities to nurture children's sense of wonder and awe in the natural world.
Services eligible for participation in the Erasmus+ Call for Accreditation and short-term mobility projects in the field of early learning and care are defined as Partner Services in contract for the Core Funding scheme with the department of Children, Equality, Disability, Integration and Youth. See Erasmus+ School Education Mobility - Leargas for further information or contact Deirdre O'Brien at dobrien@leargas.ie or (01) 8871217
---
Images courtesy of Sharon Skehill. We welcome contributions to 'Insights' at comms@leargas.ie.
Signup to our Newsletter