Imagining and Building a Sustainable, Inclusive Future- European Innovative Teaching Awards 2022
Miriam Cotter, a Special Education Needs Coordinator and Assistant Principal in a primary school on the north side of Cork city, recently won a 2022 European Teaching Award in Brussels. Miriam discusses the award ceremony and some of the successful, trailblazing projects.
The European Innovative Teaching Award(EITA) for 2022 focused on all staff learning together (and not just teaching staff) to promote creativity and sustainability in education. The theme was directly linked to the New European Bauhaus initiative, which calls on Europeans to imagine and build together a sustainable and inclusive future that is commonly beautiful for our eyes, minds and souls.



A welcome from the Commissioner Gabriel
Mariya Gabriel, the European Commissioner for Innovation, Research, Culture, Education and Youth, was the keynote speaker at the award ceremony. The Commissioner encouraged teachers to continue to explore, innovate and use creative means for teaching and learning. Attending an EITA ceremony and networking event was such a revelation and an experience.
La Tricoterie cultural space in Brussels was the setting for the award ceremony that was awe-inspiring. The venue has an interesting and lengthy history which saw it repurposed from a linen mill to a clothing factory and now to a convention centre/ lecture theatre in a sustainable and creative manner. It is fitting that a European Commission award ceremony for educational projects that falls within the Bauhaus remit of being sustainable and creative should take place in this Bauhaus-inspired building.
Projects range from outdoor learning to creativity
Some of the themes explored under the creativity umbrella included the benefits of learning outdoors, that creativity should be at the core of everyday learning and that pupils should be taught to be entrepreneurs. Sustainability and educating pupils to protect the planet featured prominently in many projects.
Implementing new ways of learning
Learning together was thoroughly explored by projects which investigated language learning by using Content and Language Integrated Learning (CLIL) methodologies, using music as a key tool to foster inclusivity. This exposes pupils to new environments through pupil mobilities as well as teaching and fostering emotional intelligence to aid and build tolerance.
Opportunities to meet potential project partners
Meeting so many teachers with similar mindsets was wonderful. The opportunity to find project partners and to network with other schools in Europe, which are also hailed as being excellent in their area of education, was invaluable. Finding suitable partners with whom you can depend to both start and finish a project in a timely and well-organised manner can sometimes be fraught with difficulties.
As a new school to the Erasmus+ programme, we took part in three eTwinning projects with varying rates of success. With over 28 primary schools in Europe also receiving awards, there was ample scope to find possible suitable partners for mobilities or even to select an expert to visit or to advise on a direction of a project.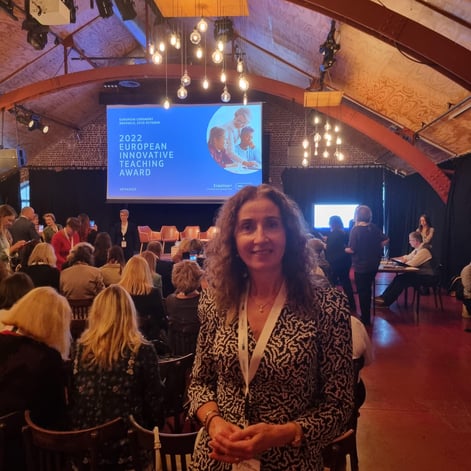 Miriam Cotter at the European Innovative Teaching Awards 2022
Awards in special education and digital technologies
The range of projects awarded with an EITA varied from special education and the use of digital technologies to inclusion and diversity. Learning from European secondary schools was also beneficial for us as a primary school because the age at which pupils transfer to the next level in European schools differs from country to country.
Understanding the different school systems in Europe means we are better placed to enroll newly arriving migrant pupils into the appropriate class for their age and educational progress. Attendance, progression, and retention are widespread causes for concern, particularly among migrants and minority groups.
The multitude of ideas and practices that other European teachers use daily could easily be adapted and adopted into teaching and learning in Ireland. New European thinking and the broadening of our teaching horizons make the award ceremony and networking day so worthwhile.
Bringing home new ideas
Listening to other teachers and staff speaking about their projects with such enthusiasm was so engaging and inspirational for me. I have returned home with so many additional contacts in my digital 'little black book.'

To find out more about the European Innovative Teaching Award, go to The European Innovative Teaching Award (europa.eu)
Signup to our Newsletter