Empower Organisational Learning with Erasmus+ Accreditation
An International Training and Cooperation Activity (TCA) focusing on Erasmus+ Accreditation was held in Dun Laoghaire from May 22 to May 25, 2023. Over 50 participants from 14 different countries gathered to explore the numerous benefits that Erasmus+ Accreditation can offer. In this article, we'll delve into the practical aspects of Erasmus+ Accreditation and how it can be an asset for your organisation.
What is Erasmsus+ Accreditation?
Erasmus accreditation gives organisations access to learning mobilities under Key Action 1, which supports organisations in delivering professional and personal development opportunities for learners, teachers and education staff. Accreditation acts like a membership card for the Erasmus+ mobility action. Organisations only need to be accredited once to receive funding for Key Action 1 mobility activities during seven years of the Programme.
How to Obtain Erasmus+ Accreditation
Accreditation is awarded to organisations that have a long-term strategic vision to develop their organisation, through organising regular high-quality mobility activities. Achieving accreditation involves a few important steps. Organizations need to create a plan for carrying out high quality mobility activities (learning experiences) and how they will use these activities to improve their education and training programs. This plan is called the "Erasmus Plan." It lays out how you'll set up these learning experiences and what you aim to accomplish. Your plan should cover at least two years of activities, and you can continue it without having to re-apply.
Find out more about how to write an Erasmus Plan here
Advantages of Erasmus+ Accreditation
Once accredited, organisations can take advantage of some of the following benefits:
Lead your own Strategy:

You have the freedom to define your organisation's goals and choose your pace of progress. You can also update your plan as you make progress.

Stable funding:

Erasmus+ accreditation ensures consistent funding for new mobility activities every year, offering financial stability for your organisation.

Grow and Explore:

Experiment with new types of activities and collaborations with partner organisations without having to reapply for funding.

Invest in future development:

Use mobility activities to steadily enhance the quality of teaching and learning within your organisation, reaching new levels of excellence.
For our participants in Dun Laoghaire, attending the Accreditation training was an overall informative and beneficial experience. It was a unique opportunity to meet with and learn from colleagues across Europe. This international and intercultural collaboration is at the heart of Erasmus+ programme.
Activities Supported through Accreditation
Erasmus+ Accreditation opens doors to various supported activities, including:
Staff Mobility:

This may involve job shadowing, teaching assignments, and attending courses and training in school education, vocational education and training, or adult education.

Learner Mobility in VET:

C

omprising of short and long-term mobility with a strong vocational component.

Learner Mobility in School Education and Adult Education:

O

ffering group, short-term, and long-term mobility options.
Other activities include:
Invited Experts:

O

rganisations can invite qualified professionals from abroad to provide training to their staff, demonstrate new teaching methods, or share best practices.

Hosting Teachers in Training:

Organisations can host teachers in training abroad.

Preparatory Visits:

Conduct visits to prospective hosting organisations to better prepare for learner or staff mobility activities.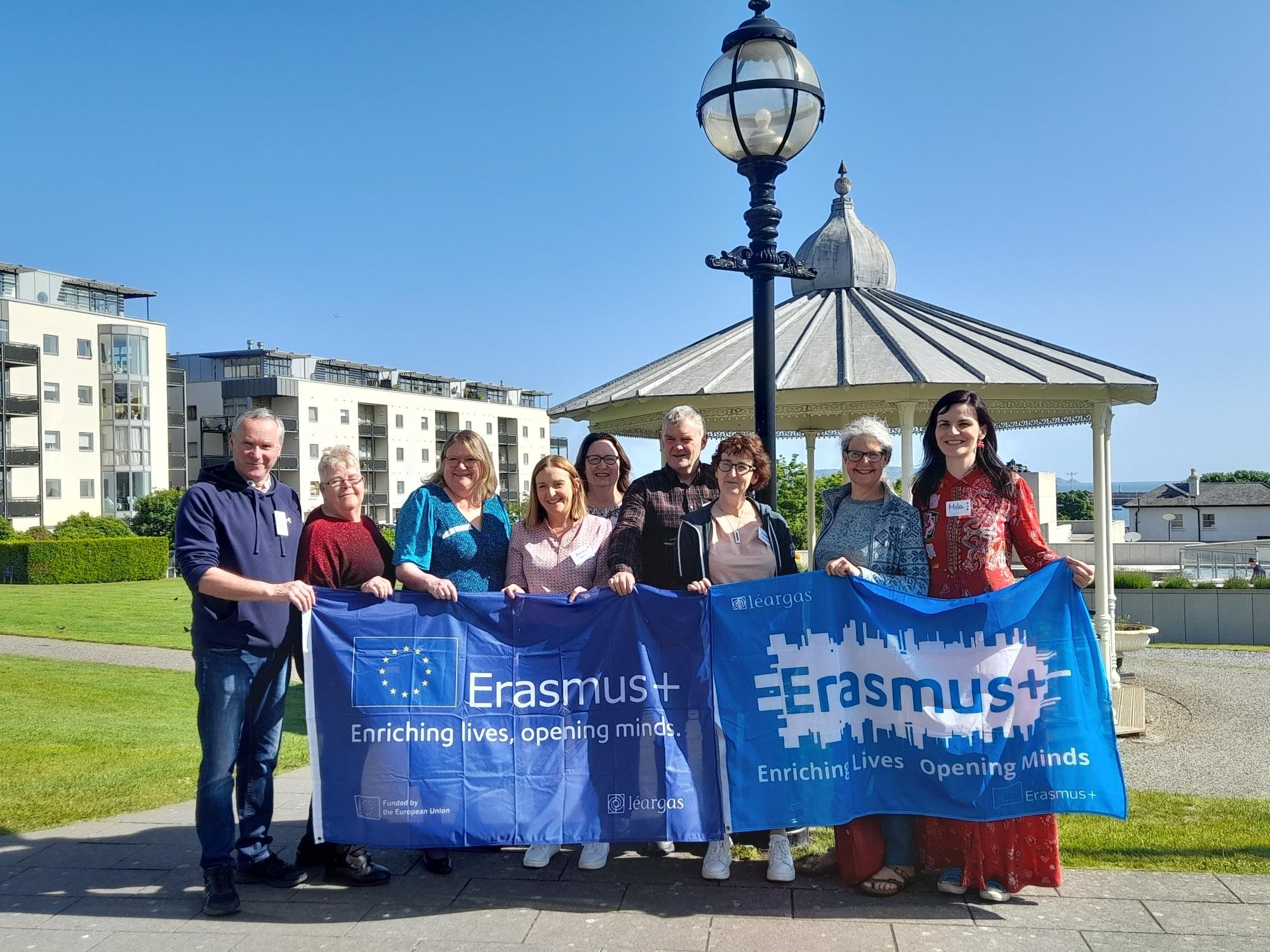 Participants attending the International Training and Cooperation Activity (TCA) focusing on Erasmus+ Accreditation was held in Dun Laoghaire.
Exploring Accreditation with Staff, Learners and Organisations
During our Erasmus+ Accreditation in Dun Laoghaire, we looked at various aspects of the accreditation process, focusing on language, planning, the accreditation application form, and the vital role of the E+ coordinator.
Collaborative activities were geared towards identifying and clarifying areas where organizations could further excel across different sectors through accreditation, including schools (encompassing early childhood primary and secondary education), Vocational Education and Training (VET), and Adult Education.
In all sectors, participants highlighted shared challenges, such as grappling with increased workloads and securing resources, and underscored key areas for improvement, including:
Enhancing the integration of learners from diverse backgrounds, specifically refugee and migrant learners

Providing supports and accommodations for those with special needs

Advancing digital literacy skills and fostering digital innovations

Facilitating access to work placements
Many of these universal challenges and calls for improvement reflect an increasingly diverse multigenerational learning environment and rapid digitisation of our world. Understanding them at the outset can help you define your learning objectives and develop a strong Erasmus Plan that is both realistic and ambitious enough to guide the implementation of projects over several years.
The Erasmus+ Programme is committed to delivering high quality, inclusive education and training, as well as life-long informal learning, that would empower young people and participants of all ages in gaining skills and experiences needed for the meaningful participation in democratic society, intercultural understanding and successful transition in the labour market

For further information please contact the relevant team:
Vocational Education and Training
Elva Duggan- eduggan@leargas.ie and Mila Popovic - mpopovic@leargas.ie
School Education
Deirdre O'Brien - dobrien@leargas.ie and Carol Anne Yorke - cayorke@leargas.ie
Adult Education:
Jemma Lee - jlee@leargas.ie
Signup to our Newsletter