Junior Business Minds: How Erasmus+ Promotes Entrepreneurship and Environmental Awareness
Barry O'Leary is Principal of O'Brennan National School near Tralee, Co.Kerry. The school is currently involved in an Erasmus+ School Exchange Partnership (KA 2) project with five other schools from Europe. Prior to his appointment to Principal in O'Brennan NS, Barry worked in St. Colman's BNS Macroom, where he previously coordinated two Comenius Projects from 2011 to 2015.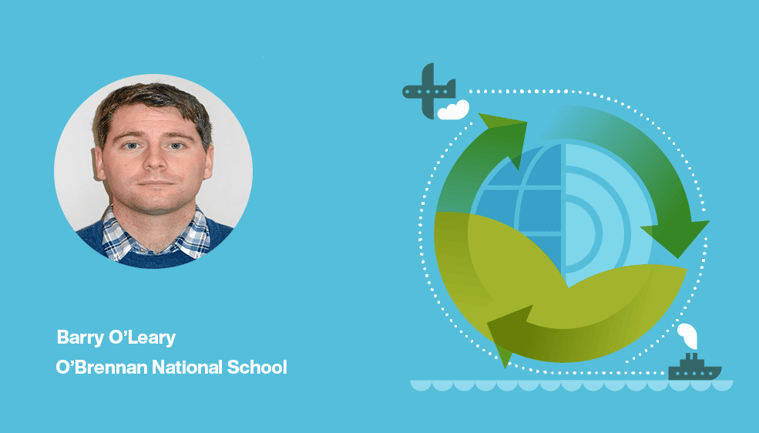 Erasmus+, Entrepreneurship and Environmental Awareness
We hosted our Erasmus+ partner schools in October 2019 and it was a truly marvellous week for our school community. Our partners come from five different European Union member states: Spain, Croatia, Italy, Greece, and Latvia.
Our project is called 'Junior Business Minds Selling Online Eco-Traditional Games.' The title touches upon many aspects of our curriculum, but the main themes are entrepreneurship and environmental awareness. It is a highly ambitious concept where children from the participating schools collaborate to set up an online business. The students sell native games made from recycled material from each participating country.
Our project began in September 2018, and it's due to conclude in June 2020.
School Life: Comparing and Contrasting Experiences
As a week can be a long time away from home, we reserved the mobility places for the schools' oldest cohort – sixth class. While children from other participating countries stayed with host families, Board of Management NS decided our children would stay in a hotel with their teachers.
Our first trip was to Greece in January 2019. Myself, a fellow teacher and five sixth class children visited a school in Athens for a week. In March, five more children and their teachers visited our partners in Pula, Croatia. In May, three teachers and five children travelled to our partner school just outside Barcelona in Spain. By meeting face to face, children and teachers get a sense of school life in the host country. Indeed, they can compare and contrast cultures by sharing knowledge and experiences with each another.
Erasmus+ and Host Families
Immediately after our visit to Spain, we started planning for the week we would host our partners in O'Brennan National School. The most obvious challenge facing us was finding host families for the visiting children. Even though our own children did not stay with host families while travelling, we found host families within our community. And as it happened, the host families played a critical role in the success of our hosting week.
In early June we reached out to households who may be interested in hosting. The positive response from parents was overwhelming. Naturally, this was much to the delight of ourselves and our partner countries!
We asked teachers on the Erasmus+ Committee to lead various aspects of the planning. Categories included Welcome and Farewell Ceremonies, Schedule and Activities, Displays and Decorations, Lunches, Travel, and Accommodation.
Prior to our partners' visit, we held a meeting with our host families. We discussed practicalities around the visit and organised Skype calls between the visitors and host children. The meeting was a great success, and really helped put minds at rest.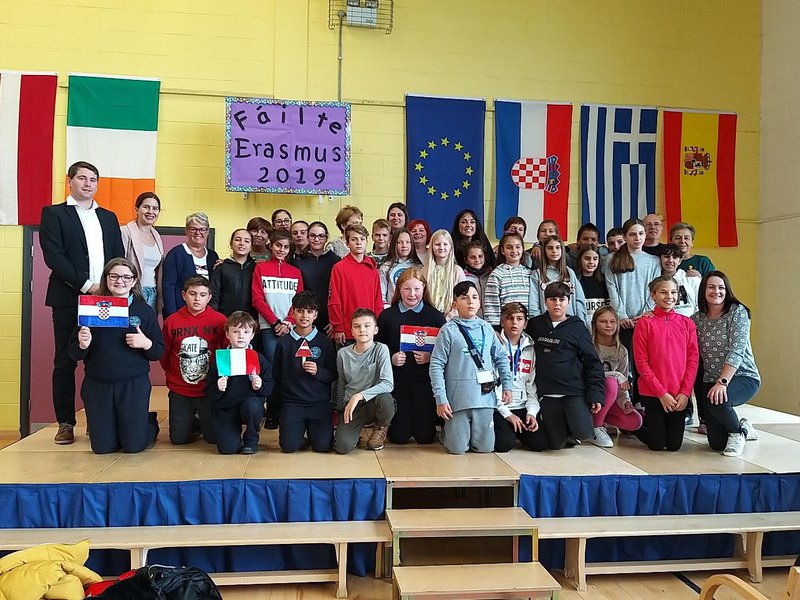 The Kingdom Welcomes Erasmus+ Students
Following months of careful planning, the day finally arrived! There had been great excitement in the lead-up to the visit, and we felt it was important to have a proper 'meet and greet' with everyone. We gave a tour of the school, and our visitors then spent some time in the classroom – as they did every day during their time with us!
The main event on Monday was our Welcome Ceremony, which saw performances from our pupils and partners; speakers from the local Council; and a welcome from the Principal. We had a lot of support from the local press too, and welcomed reporters from The Kerryman, Kerry's Eye, and Radio Kerry. After lunch, the sixth class boys and girls took great pleasure in showing the visitors Gaelic football and hurling.
At the end of each day, our staff brought the visiting teachers back to their hotel, while the children went back to their host families for the evening. Daily activities helped the children to mingle, and allowed the visiting children to settle in. Indeed, we are very thankful to those families who helped out. They went above and beyond for the children they hosted. You just can't beat a Kerry welcome!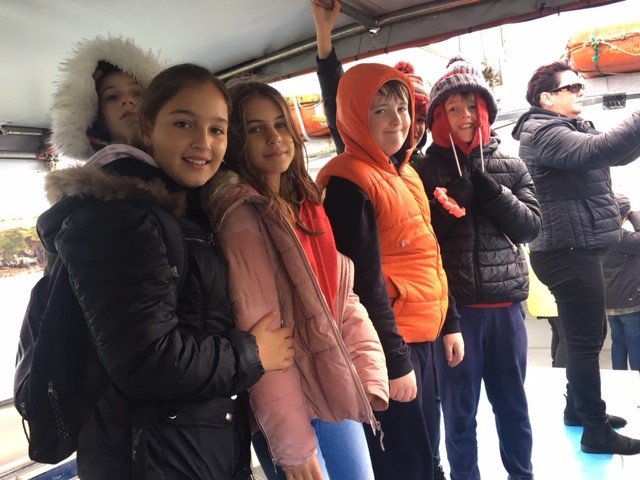 Showcasing Irish Culture
Our project task for Tuesday was photography. We were fortunate to have a very obliging and willing local photographer deliver a hugely successful workshop. That evening our staff had organised an evening of traditional music and song in a local bar. Naturally, this gave visitors a real sense of a night in an Irish pub!
Culture Day in the Kingdom
Wednesday was our cultural day! We began with a tour of Dingle, which included a meeting with one of the Kingdom's best known residents – Fungie the Dingle Dolphin! After taking in the sights and sounds and sampling some Murphy's ice-cream, it was off to Inch beach for a picnic. Thankfully, the weather on the day was favourable. The final leg was a tour of Killarney House and Gardens. We enjoyed time in the national park and a trip to the local playground. Our staff, students and visiting children arrived home exhausted after a great day sightseeing around the Kingdom.
Positive Publicity for O'Brennan NS
Thursday began by putting the photography skills learned on Tuesday into action. We took a short trip to nearby Ballyseedy Woods, and snapped away on phones, iPads and tablets. The weather was just about favourable, but the morning mist allowed for stunning woodland shots.
In the afternoon, a cohort of pupils and teachers from all participating schools were interviewed about the project by one of local radio's best known voices, Jerry O'Sullivan. The interviews were broadcast the following week on Kerry Today, Radio Kerry's flagship talk show, leading to much positive publicity for O'Brennan NS.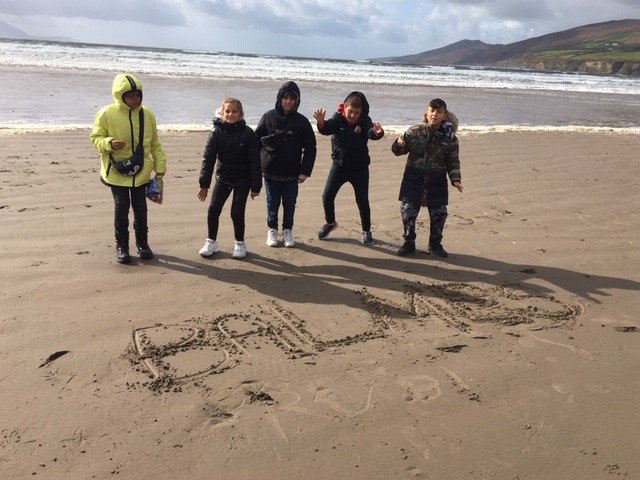 Our Erasmus+ Farewell Ceremony
The day concluded with our farewell ceremony. Our visitors shared some of their favourite memories and we gave each country a parting gift and their Certificates of Attendance.
That night, staff from our school and the visiting teachers got together for a farewell dinner at a local restaurant, with a photographer from a local newspaper present to capture the event.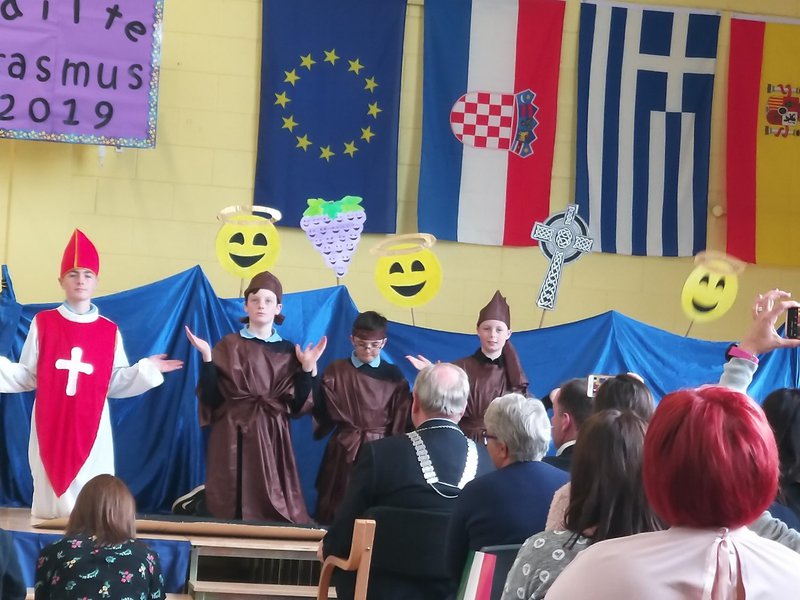 Why Erasmus+ Works For Us
Overall, the week was an overwhelmingly positive experience for our school for a multitude of reasons.
Many from our school community are wondering when we can apply for our next project!
It afforded our pupils the opportunity to meet, collaborate and work towards a shared goal with children from different cultural backgrounds
This project taught our children and adults more about tolerance, respect and difference than any classroom ever can
The project work involved touches on a wide variety of aspects of our Primary School Curriculum
Projects such as ours provide children with life experiences that cannot be found within the classroom
It brought our school community together
Our school received a huge amount of positive publicity, disseminated through local and social media.
Find Out More
---
We welcome contributions to 'Insights' at comms@leargas.ie.
Signup to our Newsletter