To celebrate Europe Day on Wednesday 9 May, Petar Dukic traces the development of his understanding of the roots and role of Erasmus+ in Europe. Petar gained a Master's degree in Sociology and European Studies in his native Croatia, and then worked in a variety of community development and human rights organisations. He joined Léargas in early 2017 in project support and now works as our Inclusion and Diversity Officer.
It's just over a year since I was employed by Leárgas, and my journey so far has been an amazing learning and growing opportunity that I'm really grateful for. However, that's not the main reason for writing this post. Seven years ago, when I dipped my toe in Erasmus+ for the first time as an Erasmus student, I didn't have a clear idea of what really happens behind the scenes. I couldn't even imagine how much history is behind the programme, nor how many socio-political and economic changes it has undergone. Since the first Erasmus students started the programme in 1987, we have had seven European Commission presidents and the programme itself has changed name and form many times. There has been Socrates, Lifelong Learning Programme, Comenius, Youth in Action....now, Erasmus+ has gathered many initiatives into one joint effort to respond to societal and political needs across a changing Europe.
'Just blue'? Look Closer
My initially limited knowledge of Erasmus+ and its history reminds me of the famous scene in The Devil Wears Prada where fashion editor Miranda Priestly tells an underling that in fact her blue sweater: "...is not just blue, it's not turquoise, it's not lapis. It's actually cerulean... which quickly showed up in the collections of eight different designers...that blue represent millions of dollars and countless jobs." That's what I think about Erasmus+; it may appear to be 'just blue' at first sight, but actually it's a multi-hued initiative strategically created to grow a Europe of knowledge, jobs and sustainability; a Europe in which every citizen has a right to education, work and freedom of movement.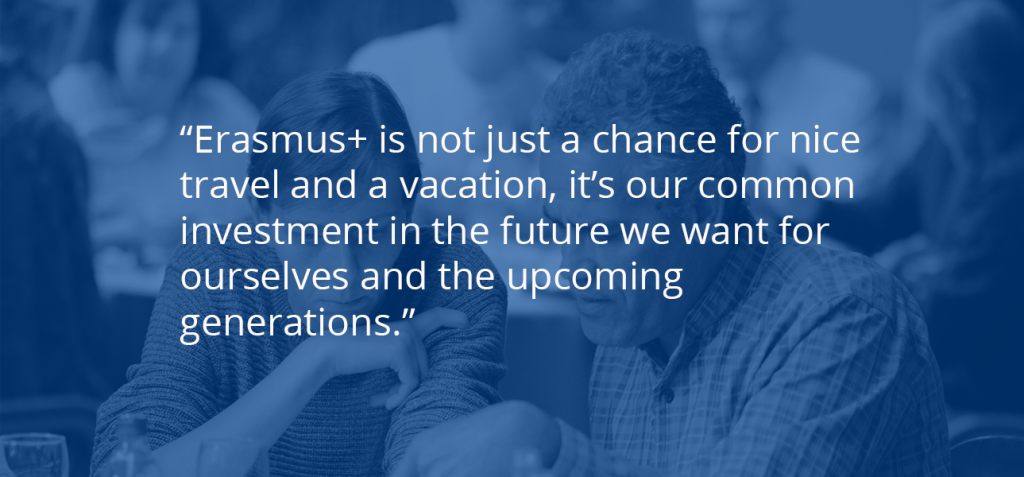 Our Common Investment in the Future
Erasmus+ is not just a chance for nice travel and a holiday. It's our common investment in the future we want for ourselves and the upcoming generations. I came to this realisation in particular while attending the second European Vocational Skills Week in Brussels last November. I had been reading the Cedefop book Old roots for new routes about the development of the programme, with a focus on Vocational Education and Training. I was captivated by the fact that "the first exchange for young people to work for a limited period of time in another Member State was adopted in 1964, but the student movement in 1968 prompted a radical rethink of education, including its relations with the labour market" (p.18). After that I read how during the Cold War Cedefop was politically installed in West Berlin and "its purpose was to demonstrate that, despite being separated by the Berlin Wall and surrounded by communist East Germany, the western sector of the former German capital was part of both West Germany and the European Economic Community" (p. 23).
Non-discrimination through Education
This is extremely important in today's thinking about the programme. Why? Well, just before reading the book I had been at the eTwinning Annual Conference in Malta. There, experts from all over the world worked on raising the capabilities of school leaders to address three main factors of exclusion: cultural differences, educational difficulties, and geographical obstacles. One of the main objectives was to continue promoting non-discrimination through education. This objective is key in the context of today's political situation in Europe, with the refugee crisis; but wasn't the early version of the programme trying to do something very similar 30 years ago? It is easy to put two and two together and to conclude that Erasmus+ (in all its forms) continuously works to provide answers to societal and political changes and to ensure that those answers include different voices.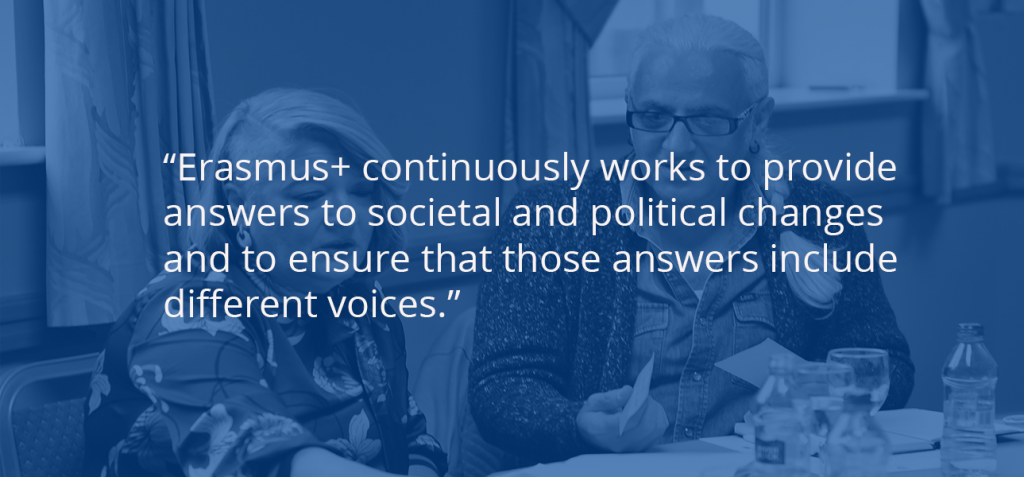 Young People as Catalysts for Change
And finally, in the last few days of 2017, I spent time with my Léargas and European colleagues in Prague at the Youth Lab: a conference that worked with themes of critical thinking, youth work, fake news and social media. This in particular was important because young people can be catalysts for positive change. I met and talked to people who are passionate about empowering young people as change-makers, and leaders who want to nurture their capacities as engaged, responsible, empathetic, resilient global citizens.
A Europe of Common Values
I got lucky by being in the unique position of working across several fields and gaining all of this invaluable knowledge on EU integration processes and its global relations. It was incredible to see how, even though fragmented into different Key Actions, Erasmus+ is still unified and operates under common priorities. Each field, from VET and Adult Education to Youth and School Education, promotes common values built and reshaped throughout the history of Europe, a history that wasn't always peaceful, inclusive and sustainable.
So, do you still think blue is just a colour and Erasmus+ is just a programme or financial mechanism? I think we should revisit our knowledge, assumptions and prejudices and build a Europe in which every citizen has a right to be part of the process and equally included no matter where they were born, no matter what their race, sexuality or religion.
---
Find out more
European Vocational Skills Week is Europe's annual celebration of vocational education and training. All across Europe, events provide inspiration and news of exciting opportunities with the theme of Discover your talent!
Old roots for new routes celebrates Cedefop's 40th anniversary and tells the story of the people and events that have influenced the work of the European Union's oldest agency. It also outlines the considerable achievements of European cooperation in vocational education and training policy.
The theme for the 2017 eTwinning Annual Conference was Turning Inclusion into Action.
Photo credits: Brian Desmond, Léargas; Bernard Van Giessen. We welcome contributions to 'Insights' at comms@leargas.ie.