When Education met Democracy - eTwinning Annual Conference 2019
Viki Malcolm teaches French, German and European Studies at The King's Hospital School in Dublin. The King's Hospital school is a European Parliament Ambassador School (EPAS) and Viki is an EPAS Senior Ambassador. Viki attended the eTwinning Annual Conference on Thursday 24 October in Mandelieu-la-Napoule, France. The conference brought together teachers, policymakers and experts from all over Europe to discuss the role education plays in shaping tomorrow's citizens. Read about Viki's experience at the conference below.
I am in my second year of being actively involved with eTwinning projects and, as a newcomer, I was keen to attend the annual eTwinning conference to exchange ideas on best practice and to forge lasting partnerships with experienced eTwinners.
The conference was very organised from start to finish. There was never a moment where I didn't know where to go or who I was working with – a fantastic feat since there were over 500 delegates! The first day of the conference began with the opening ceremony. It was very interesting for me as I'm relatively new to eTwinning projects, and I feel as though I still have much to learn. It was a real eye-opener seeing how far eTwinning projects can take you and the wonderful outcomes they can have for the project partners. It gave me a real sense of the benefits of eTwinning for teachers and learners alike.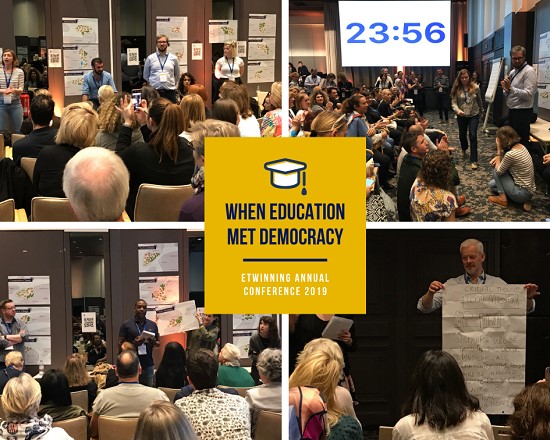 That evening we were introduced to the fictional country of eTwinlandia. In eTwinlandia they had a very valuable vase called an Ostraka. The vase was broken, but then some children found the missing piece and it had to be exhibited. But where?!
This was a very engaging exercise in democratic participation that involved every one of the five hundred delegates in deciding the fate of the Ostraka. This theme continued throughout the conference as we were encouraged to work in transnational groups and to take on different roles and come to a democratic decision as to where the Ostraka should be housed. The activity was engaging, at times challenging and very inclusive. It was a brilliant way to give teachers hands-on experience of democratic participation and how it can move into our classrooms.
The second day of the conference was busy with excellent workshops. The expertise that was on display and the range of workshops that you could attend was staggering. My first workshop was Stories that Move, and it was an interesting workshop with lots of food for thought afterwards. Karen Polak from the Anne Frank House was a superb facilitator and, even though the group was huge, managed to involve us all in activities. We now have access to a free online tool that can be used in class to discuss and explore discrimination, racism and antisemitism.
Next, I attended a Partner Finding Forum for ages 12-19. This forum was another big group. We were encouraged to sit at international tables, but it might have made more sense to organise tables by subject or project topic as we spent much of our time trying to find someone with similar interests! Many projects began here, though, and there is no doubt that it helps to meet partners face to face - a project's success is much more likely if partners meet and share ideas.
Good Governance and Participative Democracy was my third workshop. This was, for me, the least useful as it didn't relate strongly to my project ideas. I felt it was better suited to a smaller group, and lacked some interactive elements. That said, it was probably just an ill-informed choice on my part given my project focus this year.
My final workshop of the day was Spreading the Word about the Global Goals - this was the absolute highlight of the seminar for me. One of my projects this year is based on the Sustainable Development Goals, and I learned so much from this workshop that will be of practical use when mentoring my students and their transnational action projects. Fantastic!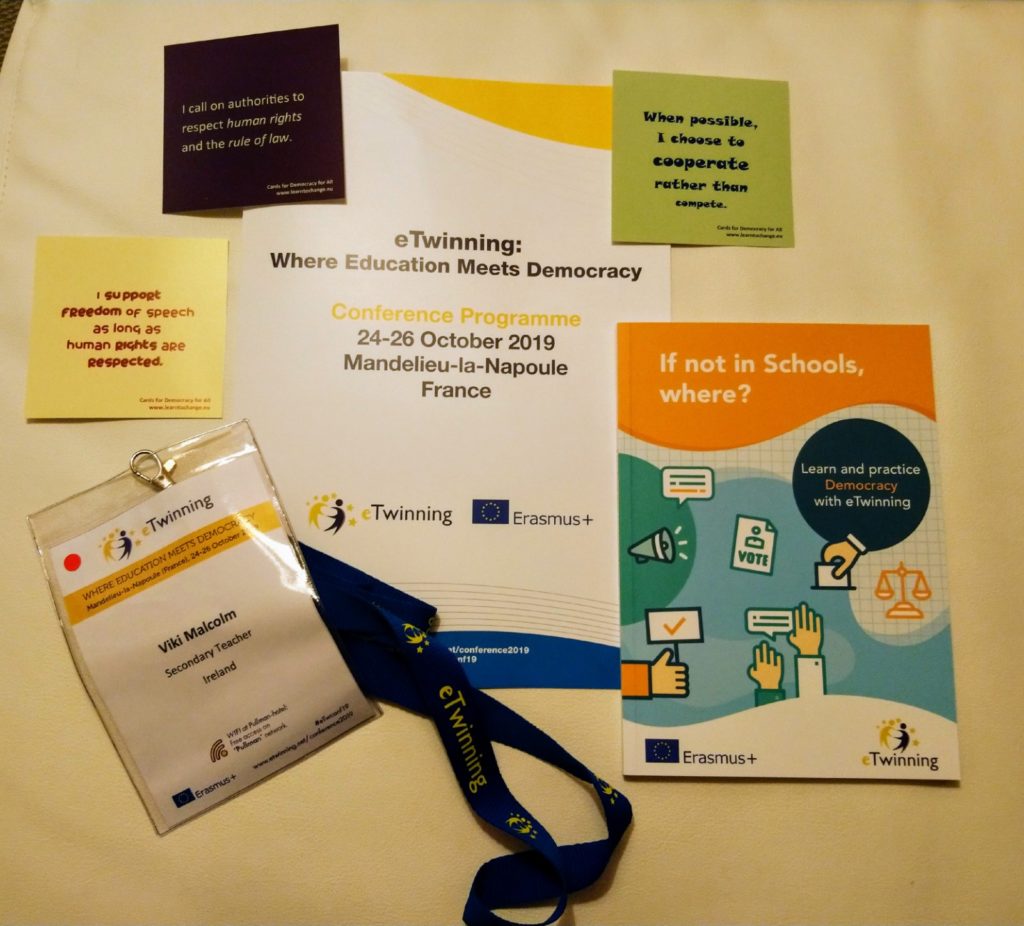 The umbrella topic for the conference was democratic participation, which was of great interest as one of my eTwinning projects this year focuses on this topic. My project is called Get up and Goals and, together with my partners in Italy, Turkey and Croatia, we will be working in transnational teams to develop action projects around the UN Sustainable Development Goals. I was able to exchange ideas on good practice with my colleagues from other countries and discuss how best to mentor my students so that their teamwork is rewarding and productive.
I also met Milena Popova, who works for Europeana - a friend of eTwinning - in The Hague. We discussed how best to incorporate some of her work with digital and cultural heritage into the classroom. We also talked about the Europeana Teacher Ambassador Programme, which is something else that would add value to my teaching and future eTwinning projects.
The conference was terrific. I experienced great enthusiasm from all involved. There is no substitute for meeting people face to face in terms of creating a successful project.
You can watch a wrap-up video of the eTwinning Annual Conference here, or find out more about the conference.
---
Images courtesy of Viki Malcolm. We welcome contributions to 'Insights' at comms@leargas.ie.
Signup to our Newsletter