Stepping into European Projects in Ballymun Job Centre

Ruth Baker is EU Project Officer with Ballymun Job Centre in Ballymun, Dublin 11. The Centre uses Erasmus+ Vocational Education and Training funding to collaborate with European partners. Their projects focus on Cooperation for innovation and the exchange of good practices. In this week's blog Ruth talks about the challenges and benefits of working on these Erasmus+ VET KA2 Strategic Partnership projects.
My role as EU Project Officer
I took up the role of EU Project Officer with the Ballymun Job Centre in January of this year. I hold a BA in Sociology and Social Policy from Trinity College Dublin and am currently studying part time for an MA in Public Policy from Dublin City University.
Prior to working on European Projects in Ballymun Job Centre, I worked as a Case Manager in homeless services in Dublin city centre. I really enjoyed my time working with clients, however my passion has always been in policy research and development. When I noticed the role of EU Project Officer advertised, I jumped at the opportunity.
Transitioning to work on EU Projects has been a big adjustment but one I have really enjoyed so far. Here in Ballymun Job Centre there is an emphasis on developing areas of best practice and the EU projects give us the space and flexibility to develop new tools and approaches with our European partners that can benefit our clients and staff.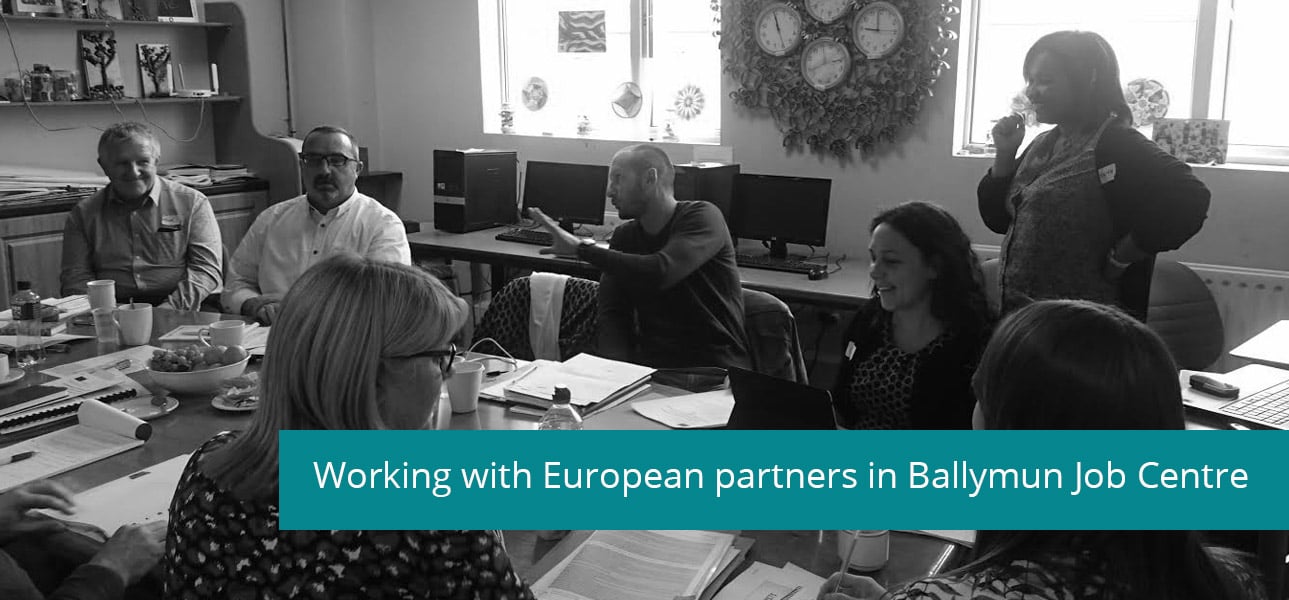 Working on European Projects in Ballymun Job Centre
Policy changes and developments can be time-consuming and resource-intensive, which brings challenges to the community sector where organisations are short on both of these. EU projects are unique in that they grant us the opportunity to develop new approaches to tackle the issues faced by our clients and staff on a day-to-day basis.
In Ballymun Job Centre we work on a number of Erasmus+ KA2 Strategic Partnership projects which focus on Cooperation for innovation and the exchange of good practices. There have been many areas of learning for me since I started in the role but I think the biggest insight has been the benefits that can be gained from transnational work with European partners.
Each project has on average four or five partner organisations working together and the relationships built during the roll out of these projects are vital to their success and to the power of the tools they develop. Each partner brings different insights and expertise to the projects and this ensures that the outputs are truly cross-European in nature.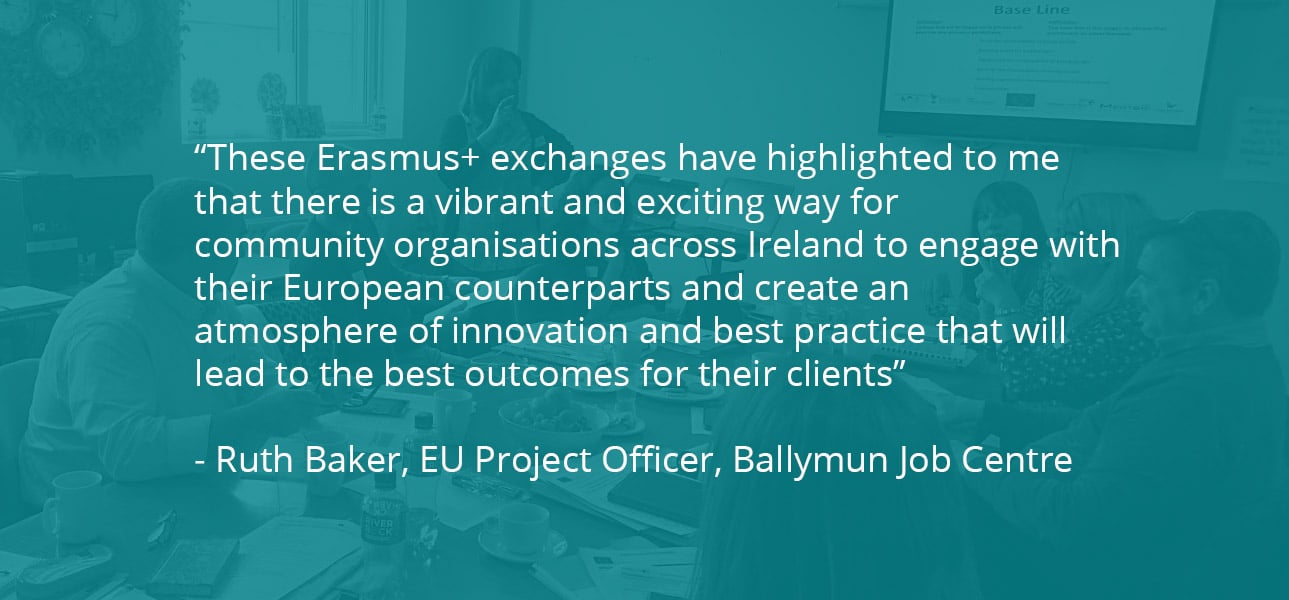 The Benefits of European Projects in Ballymun Job Centre
I have learned that these projects are very much about teamwork. While I may have responsibility for a specific Intellectual Output or certain pieces of work, if I am unsure of anything or need advice, the partners are always there with solutions or a dig out. Having so many opinions and inputs on a project may seem unappealing to some who find the idea of 'group work' tedious and cumbersome in a professional setting, however I think it is one of the benefits of Erasmus+.
The transnational learning and exchanges are where real growth happens in the projects and where the most creative solutions for problems are devised. Working in a community setting with limited resources can often lead to unintentional limitations to programme development. These Erasmus+ exchanges have highlighted to me that there is a vibrant and exciting way for community organisations across Ireland to engage with their European counterparts and create an atmosphere of innovation and best practice that will lead to the best outcomes for their clients.
Reliance on the support from colleagues here in the Ballymun Job Centre and other organisations in the wider community is a big part of my role. I would not be in a position to do my job without the endless time and energy given by these staff to provide their expert feedback on a tool we are developing, or even piloting the tool with their clients.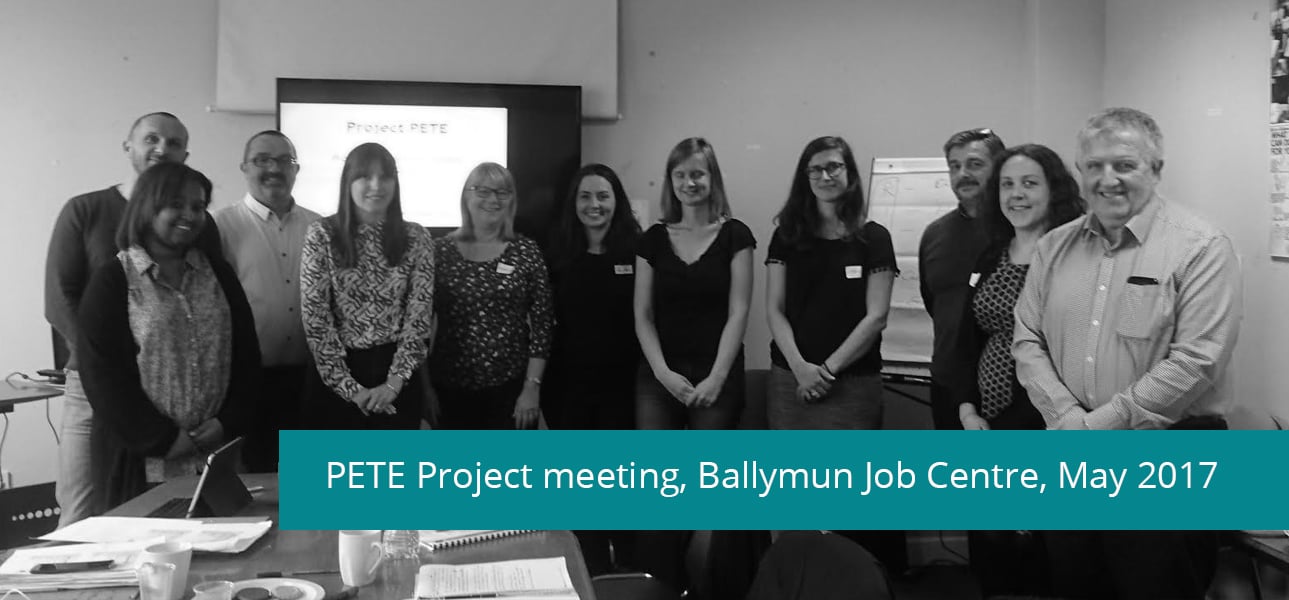 The EU Projects have cemented my opinion that inter-agency working benefits all those involved and has certainly provided me with the soft, supportive landing I needed when I first started in my new position.
The change in role has not been without its challenges though. It takes time to get used to things like the need to record events during the projects or simply understanding the jargon that everyone tends to use when discussing them. But this is all part of a new job and after almost eight months I think I am just about getting the hang of it!
While I've learned that the summer months can be a bit more of a quiet time for the projects, I am gearing up for a busy autumn with a lot of Intellectual Outputs for projects getting going. I am excited to see what the next few months have in store for the projects and to increase my learning as we go along.
---
All images courtesy of Ruth Baker, Ballymun Job Centre. If you'd like to share your story on 'Insights', contact us at comms@leargas.ie.
Signup to our Newsletter