Schools Celebrate the European Day of Languages - and Wellbeing!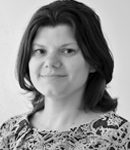 Léargas Languages Initiatives Officer Eli Babei reflects on an inspiring visit to Kilglass National School in Galway, to present the prizes for our European Day of Languages competition.
While modern foreign languages may not be part of the primary school curriculum, many primary school teachers use creativity and partnerships to give their students a taste of foreign languages. Among them is Peter Kane from Kilglass National School in Co. Galway, whose school won the 2018 European Day of Languages Competition.

The European Day of Languages (EDL) is celebrated across Europe on 26 September each year to promote and celebrate the diversity of languages in Europe. To celebrate the day, schools organise multilingual and multicultural events. Some hold music performances or foreign food fairs; others have informal events that allow bilingual and multilingual students to share their heritage languages and become language ambassadors for the day.
To celebrate the EDL and encourage multilingualism throughout the school year, Léargas organises a yearly EDL competition. For the last two years the competition has been organised in conjunction with eTwinning, the online community for schools in Europe. This partnership celebrates collaboration and exchange between schools in different EU countries, and promotes creativity and innovation in language teaching and learning. Schools can win prizes for their classes by simply creating a language-themed project and registering it on the eTwinning Platform. The current competition is open until 31 January 2020, and all the entry details are on our #EDLComp19 flyer.
The 2018 winning project was called "Our Health is Our Wealth", and won three Chromebooks for Kilglass National School. We visited the school for the prize presentation and, fittingly, found the students there enjoying a sports day when we arrived! As we were about to discover, the school puts a big emphasis on all things wellbeing, while sparking the students' curiosity for language learning at the same time.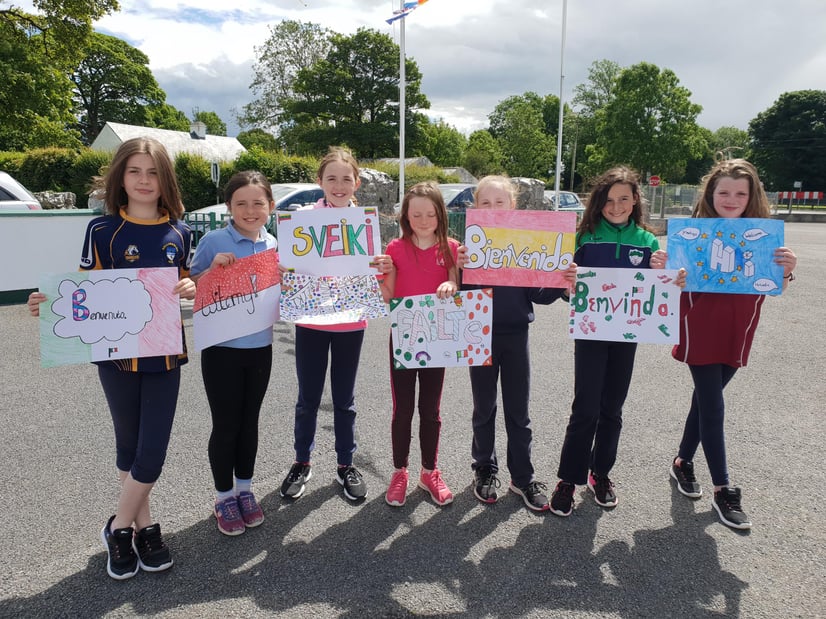 "Our Health is Our Wealth" is an Erasmus+ funded school exchange partnership that brings together schools from Italy, Ireland, Lithuania, Poland, Portugal and Spain. The eTwinning project has the same name and keeps the partner schools digitally connected in between the in-person exchanges. As well as informing young students of the value of good health, the eTwinning project introduces students to relevant vocabulary in other languages.
Teacher Peter Kane, who coordinates the projects, and the school's principal Vincent Glynn both wanted to include a modern languages element in the eTwinning project because they saw the value of developing both healthy lifestyle habits and language learning skills early in life. The teachers wanted to give their pupils a flavour of foreign languages in a fun and vibrant way. The project saw students practising greetings; learning names of fruit, vegetables and sports; and making videos to introduce themselves, all in various languages.
On the day of our visit we also took part in a multilingual quiz with the students. Their teacher used free online software and available digital tools to set it up. We are delighted that the prize of three Chromebooks will help enhance the students' ICT skills even more, and make learning a bit more fun and interactive. We think Kilglass are already on the right track: when asked about their favourite memory of the project, one student wrote "my favourite part was winning the laptops, doing the quiz and trying to learn new languages and making posters of fruit in different languages"!
However the success story of Kilglass National School does not end with the prize-giving. Now the results of the school's commitment to learning and wellbeing can not only be seen, but tasted! The school set up a greenhouse a few years ago, where young students learn to grow food and appreciate fresh local produce. Since the day of our visit, the school has also won the eTwinning National Quality Label. This is granted to teachers whose projects demonstrate strong evidence of excellent communication and exchange between partner schools, as well as pedagogical innovation and clear collaborative teamwork. We certainly saw that in action on our day with the students of Kilglass.
If you are like Peter and Vincent and wish to enhance your students' foreign language learning skills, we look forward to your application for the latest European Day of Languages Competition and to hearing about your language-related projects. Primary school projects conducted through Irish, or English as an additional language, are eligible and most welcome to apply.
For more information about the EDL competition and our other language initiatives, contact Eli Babei.
---
Images courtesy of Kilglass National School and used with permission. We welcome contributions to 'Insights' at comms@leargas.ie.
Signup to our Newsletter