Apply for a European Language Label award and encourage Languages for Life

Do you know of an innovative language project or initiative that deserves to win a European award? The European Language Label highlights and recognises creative and inspirational language learning initiatives: they can be large or small, formal or informal, and involve any language. This year you can apply online for the European Language Label award until 30 April 2018.
In this post, Anna D'Arcy from our Strategic Initiatives team explores how learning languages strengthens cultural engagement and understanding.
Why learn a new language?
For many people, language is simply vocabulary and grammar. In fact it is so much more than that! Learning a new language opens the door to discussions of identity, culture, history, geography, politics, economics, and everything in between. Learning a new language forces us to examine ourselves and our own culture, and why we say and do the things we do. This cultivates a deeper appreciation of the other languages and cultures we encounter, and develops understanding of our similarities as well as our differences. It is important to note that language is not limited to words and sounds: sign languages and Braille (among many other alternative forms of communication) highlight the diversity in our communities, and the need to be inclusive of all. No matter what language we speak, we all love to share stories with each other, laugh together, or maybe just have a good moan together if we've had a bad day!
A winning idea from 2015, the 'Hands in Motion' choir from St. Mary's School for Deaf Girls
Languages for Diversity and Inclusion
Throughout our lives the languages we speak may determine where we live, where we study, or what career we pursue. Those fortunate enough will have the opportunity to make these choices for themselves. However, people who find themselves displaced from their lives and communities may be forced to relocate to a different country and communicate in a different language. In recent years, we have seen hundreds of thousands of migrants travel to Europe in search of a safe place to live and raise their families. Now more than ever, languages are key to ensuring that people have the tools to study, work and become an active and integral part of different communities. Sharing our languages and cultures will also help us develop an inclusive society where no one is marginalised or excluded.
2013 winner 'Fáilte Isteach' connected older volunteers with newly arrived migrants for language exchange
Supporting language learning is a core part of the European Union strategy for addressing these kinds of challenges. The European Framework of Key Competences for Lifelong Learning (2006) recognises the ability to communicate in a foreign language as one of the key competences needed for personal fulfilment and development, active citizenship, social inclusion and employment. The 2018-2020 priorities for the European Language Label underline this, stating: "Languages form just one aspect of diversity; however they are crucial since learning is a deeply linguistic process. Learning of any kind is in peril if the language used in the classroom is not fully comprehensible to the learner."
Ireland's New Strategy, 'Languages Connect'
As an active member of the European Community, Ireland must play its part. Knowledge of foreign languages is essential for Ireland's cultural, social and economic welfare. Even though we are a small, open economy which depends on international trade, and we are now home to people from almost 200 countries, our levels of competency in foreign languages remain low. The range of languages that students can study to exam level is somewhat limited, and more learners could take advantage of mobility opportunities, such as Erasmus+, to experience language immersion. This has led to the enterprise sector indicating that there is a shortage of people sufficiently skilled in the languages of trade and business. In 2017 the Department of Education and Skills launched its Languages Connect Strategy 2017-2026 to tackle these issues. The strategy aims to change public perception of language learning, promote economic, political and social benefits of learning a second language, and improve and diversify the language teaching methods used in schools and in the community.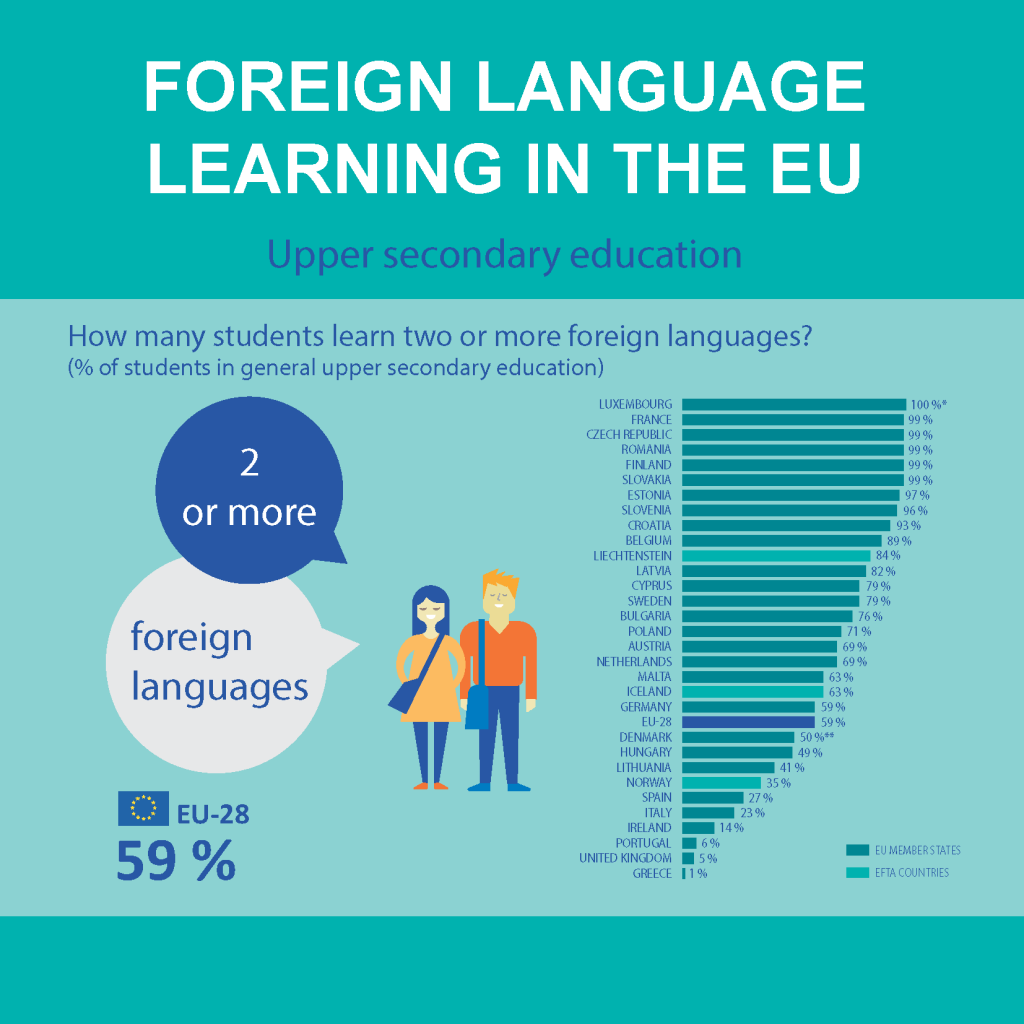 Source: Eurostat
Apply for the European Language Label
This year, the European Language Label has a close relationship with 'Languages Connect'. Applications for the award will be considered under six award categories, that echo the goals of the Languages Connect strategy while supporting the priorities of the Language Label. The categories are:
Embracing Linguistic and Cultural Diversity in Multilingual Settings
Creating Engaging Learning Environments
Diversification and Increased Uptake of Language Learning
Increasing Awareness and Changing Perceptions
Promoting the Professional Advantages of Language Learning
Using Technology to Enhance Language Learning Techniques.
The awards are open to all sectors of education and training, and both accredited and non-accredited programmes. So whether you're from a football team, a university, a community group, a school, a youth group, a company or a choir…we want to hear your stories of how you're bringing language learning to life. Find out more about the competition, and don't forget to read the guidelines before you apply. Applications are accepted online until the closing date of Monday 30 April. The award ceremony will be held on Tuesday 25 September 2018.
We look forward to seeing the great variety of inspirational, innovative and exciting ideas out there!
---
For more information on applying for the European Language label, contact Eli Babei.
Signup to our Newsletter