European Vocational Skills Week PR Kit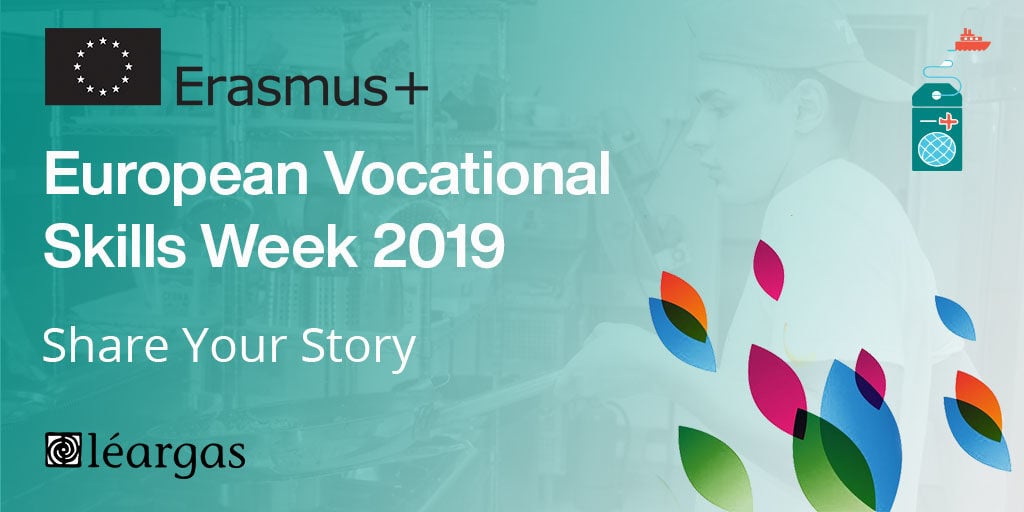 A warm welcome to all of you who are taking part in European Vocational Skill Week 2019. We're delighted that you've taken the opportunity to celebrate your project and share your experiences with the wider European community. To help promote the fantastic work you and your organisation is doing during European Vocational Skills Week 2019, we have created a handy PR resource pack for your organisation. We're providing tips in this post about how you can promote your European Vocational Skills Week events online and perhaps with local media. Read on to find sample texts and graphics that you can use in posting to social media; tips for writing a press release and a link to a press release template; a few pointers to taking good photographs, and finally some hints (and a template) for writing a short blog post or article for your newsletter.
If at any time your media contacts would like additional information, please don't hesitate to refer them to the team here at Léargas directly.
Finally, don't forget to use #EUVocationalSkills when sharing across your own social media channels!
Social media
Please use the #EUVocationalSkills when sharing information about European Vocational Skills Week across your social media channels.
Sample social media posts are included below:
Preparations are well underway for our European Vocational Skills Week celebrations taking place next [day]. #EUVocationalSkills #DiscoverYourTalent

The students here at [organisation name] are looking forward to sharing recent work on [project] at our [event] on [date]. #EUVocationalSkills #DiscoverYourTalent

Find out what our students and staff have been working on as part of European Vocational Skills Week 2019 celebrations in our new blog post on our website [link to blog post] #EUVocationalSkills #DiscoverYourTalent

Today we're celebrating our projects and activities from throughout the year undertaken by as part of our Erasmus+ project. [short blurb about activities and projects]
Quote and accompanying headshot – "Through xxxx project, I learned/developed …" [student / teacher name and details]. #EUVocationalSkills #DiscoverYourTalent
You can use some of our prepared graphics to accompany your posts:
Facebook and Twitter post size (1024 x 512)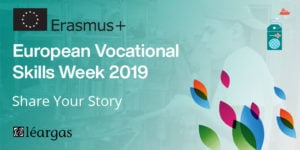 Instagram post size (1080 x 1080)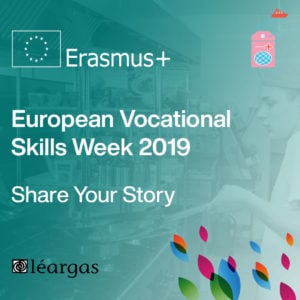 Media Relations
Media relations can be a very cost effective way to get your story shared in the media. The key is making it as easy as possible for media to cover the story. Writing a concise, catchy press release and supplying interesting photographs always help! Here are some tips and templates:

Press releases
A press release is the best means of communicating the most important / interesting information about your activities to a range of relevant media. Use it to share your key messages and pique the interest of media to learn more.
How to write a press release:
When writing your press release, it is important to consider:
What is the most interesting or newsworthy point about your activities? Facts, figures, new information.
The angle doesn't always have to be news-focused; sometimes, a human-interest angle works best (e.g. the real – life story of one of your course participants).
The release should be written in a factual, objective manner. Any subjective material should be confined to quotes from spokesperson(s).
The components of a press release are:
Headline: should grab the essence of the story.
Release date: include the date, month and year, with an embargo time ('do not publish before' time) if necessary.
Lead paragraph: summarise the core issue; should only run for two to three sentences; and should be able to stand alone for use in a broadcast news report.
Top three paragraphs should answer: Who? What? When? Why? Where? How?
Body: should elaborate on lead paragraphs and include (usable) quotes, relevant facts and figures.
Contact details: at the end, type the word 'ENDS' and include follow-up contact information after that.
When formatting and issuing press releases and photographs:
Use 1.0 line spacing and a traditional font such as Arial or Calibri 11pt. Avoid using styles such as bold or italics.
To issue a press release, copy and paste the text (including any notes to the editor) into the body of the email. Include the photo and photo caption for print and online media i.e. not for broadcast media. Send the original photo if possible so it's the highest quality.
Copy and paste the headline into the subject bar.
If you are sending to a small number of radio stations or newspapers, you may wish to send the release separately to each one. If you are sending to more, copy and paste your list of recipients into the BCC line of your email.
In local newspapers, photography can have a significant impact on whether your story is used. Digital photographs of people, particularly ones that show the activity, are always popular with local press.
If possible, use a professional photographer. Alternatively, there may be a skilled amateur photographer at your school, or see our tips about photography below.
Provide a short caption for your photographer with the names of the people shown.
For local newspapers images should generally be high resolution (300 dpi) and in JPEG format (.jpg, .jpeg)
Here's a template you can use to write a press release about your activities: European Vocational Skills Week Template Press Release

Photography
Strong images are a great way to connect. An image can be taken in at a glance, so will reach more people than text can. Photography can play a crucial role in whether your events and activities get covered by print and online media. The easiest way to get strong images from your project is to take them yourself. You don't need fancy equipment; a phone camera, when used well, can work wonders! Before you click the button, remember:
Get consent
Let people know you are taking their photo, and what it will be used for. And of course you need parental/guardian consent when taking photos of people under 18.
Get close
People respond strongly to faces and expressions – much more than ceilings and floors! – so don't be afraid to get close to the action.
Get some active shots!
Create a sense of your project by showing staff and students engaged in its activities, rather than always posed for a photo.
Look for strong light and shoot in high quality.
A photo that looks fine on your display screen can get very grainy when it's enlarged, so set your camera to its highest possible quality level.
And remember if you're using a phone camera use filters if you wish, but don't over-edit!
Blog posts or newsletters
You may also like to share a blog on your school website or article in your newsletter. Here's a template you can use if you're writing a blog post or an article for a newsletter, it includes some 'boilerplate' text about Léargas and Erasmus+. And here are more general guidelines to writing blog posts that we created for our own blog on this site.
Remember to credit Erasmus+ and if you credit Léargas too, your colleagues and community will know to contact us for more information.

Download the Erasmus+ logo here.
Download the Léargas logo here.
If you are unsure about how to use logos or need them in other formats, please contact our Communications team.
If you're interested in more tips on how to share the work you're doing in your Erasmus+ projects, check these two blog posts from our Communications and Impact Research officer, Charis Hughes:
Practical Dissemination: Share What You've Learned
Signup to our Newsletter