European Voluntary Service in the Community
Citywise Education is a not-for-profit organisation running education, sporting and personal development programmes in Tallaght, Dublin. Their Erasmus+ Youth in Action KA1 Mobility project has enabled them to host European Voluntary Service (EVS) volunteers from Europe to help with their work in the community. Recognising the threat that drugs, gangs and crime present to a young person's future, Citywise Education focuses on the importance of academic ambition and personal development. At Citywise Education, young people learn to work hard, acquire study habits and develop their academic ambition. David Andrés from Spain is currently volunteering with them. In this blog David shares the benefits of EVS for youth organisations and volunteers alike.

My name is David and for four months I have been in Dublin as part of European Voluntary Service. First of all, I must say that since I've been at Citywise Education, I try to enjoy everything. This is my main goal daily, and has been very useful to overcome the disadvantages of staying in a country other than the one I was born in. Helping an organisation like Citywise is always a challenge, but an enjoyable one at that.

Bringing STEM opportunities to young people
Life in Citywise is full of small details, but at the same time, very enriching. My EVS role is currently to help in the STEM programme, which consists in preparing young people for careers in engineering, mathematics and information technology. In Citywise, there are many generous teenagers who are willing to lend a helping hand. For instance, I have seen with my own eyes how a lad helped another student in his first day of class, as if he were the very teacher. There are many examples of big hearts between each other; seeing that is really edifying.
Having worked for three years in different social programmes in Spain, I see that the methodology used in Citywise actually works, achieving fantastic results. Additionally, having felt the social reality of Jobstown, I think Citywise is a golden opportunity for children and teenagers living in this area of Dublin: to be encouraged to study in order to go to university, to have professional ambitions, to broaden horizons, etc.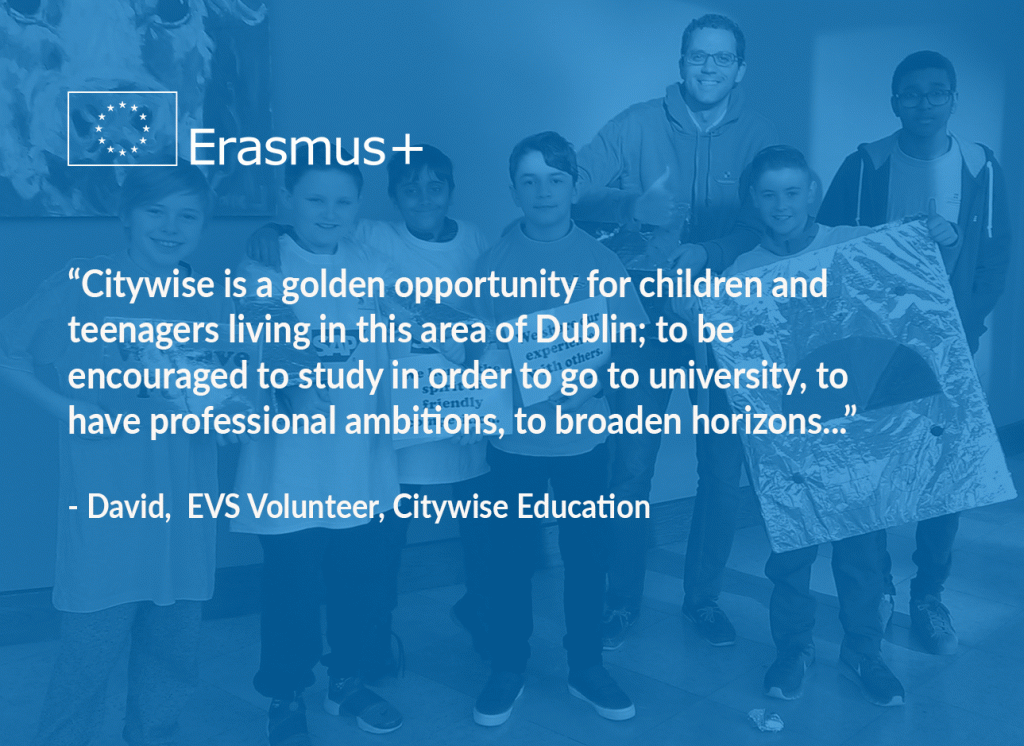 At Citywise I find children with immense potential. However their lack of self-esteem and social issues often prevent them from achieving their ambitions. Day-to-day life in their area can be a deterrent to college, and that's a pity, especially when it comes to young talent.
Encouraging a love of learning in young people
Two weeks ago we participated in the "First Lego League". It has been a wonderful experience for me. This competition is a very interesting way for Tallaght boys and girls to get excited about robotics and programming. Two teams participated from Citywise, one of which finished in a commendable fifth place. I loved the preparation for the championship and also the pleasant atmosphere formed by the parents of the guys and the Citywise staff. This activity was a really effective means of improving the aspirations of all children involved in it.
I also participate in another program called Khan Academy, where through different mathematical and logical games, we show young people that mathematics can be entertaining as well as being very useful for professional life.
In summary, I realise that I am in an excellent place, learning day by day a form of social work which is very professional. In addition, I also learn a lot about children, about their way of thinking, seeing the future, and relating to others. At the same time, I try to do my bit in the promotion of each of them, in order to improve their professional, human and social skills. As I am in a developing process myself it is my ambition that in future I will be of greater assistance to all the boys and girls that are bringing about such a wonderful change in Tallaght.
---
All images courtesy of Citywise Education. This blog was originally published by Christopher Smith on the Citywise Education blog.
If you'd like to find out more about European Voluntary Service, visit our Youth Volunteering section or email Suzanne Kavanagh. We welcome contributions to 'Insights' at comms@leargas.ie.
Signup to our Newsletter