St. Mary's Parish Primary School is a large primary school in the Boyne Valley, a historic area surrounded by legends of the Táin, the Salmon of Knowledge and a host of others. Add to this a desire to see greater integration of ICT in literacy, and you have the seeds of an application for Erasmus+ School Education Key Action 2. Two years into the project, co-ordinator John Weir reflects on this 'legendary' experience.
Our Erasmus+ adventure began in 2014. A desire to get involved with a European project, coupled with a long-standing interest in ICT in education, was the genesis of our project 'The Europe of Myth and Legend – Using ICT and Local Mythology in the Teaching of Literacy'. We looked for partners through the eTwinning live partner forums (think of it as speed dating for schools!). The received wisdom was that it would be better to join a 'ready' project as a partner school, but when the dust settled we found ourselves as co-ordinator for the project we had in mind. In any case I began to plough through the Erasmus+ KA2 application form. Make no bones about it; it is a detailed form and it will take you a while to complete, but it does give you a clear understanding of how the project and its various component parts, timeline and budgets are structured. All applications are scored under a number of criteria. You have to get a pass mark in each category and then based on your overall score your application may be approved.
Typically myths and legends tend to be studied in the context of a history class, with content being presented in a book. The aim of this project was to present the content in an innovative manner, by using ICT and a variety of approaches to teaching literacy that our European partners could share. Pupils acted as peer-tutors in the development of literacy resources, with English-mother-tongue students using Web 2.0 technology to collaborate with non-native speakers. Together they explored the written word and the development of suitable resources to assess comprehension and deepen understanding. This use of ICT as the medium of instruction, means of communication/collaboration and in the creation of resources helped develop basic and transversal digital skills.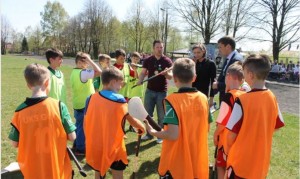 While many national curricula touch briefly on the myths and legends of other countries, this project allowed these legends to be told by natives of those lands from their unique perspectives. Teachers from the various partner countries were in place when the content material was introduced, to allow for explanation and clarification as well as being able to display cultural artefacts to add a richer learning experience for the students. For example, the story of how Cú Chulainn got his name was surely brought to life in Poland, as one of our teachers demonstrated the basics of hurling and then let 30 students loose with camán and sliotar! (A new strand on the Polish P.E. curriculum next year maybe!!)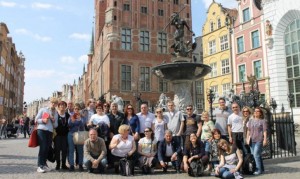 As well as the agreed body of work, the typical elements of a KA2 project would involve transnational planning meetings, where the co-ordinating teachers in each school get together. It is definitely a good idea to do this as soon as possible, so that you can put faces to names and firm up the details that you submitted in your application. In our case there were also to be a number of short-term training teacher exchanges which took us to Ankara, Turkey; Madrid, Spain; Stigliano in the South of Italy; and Brodnica in Poland.
So was it worth it? Without a shadow of a doubt, yes! Apart from the stated educational objectives there have been some broader outcomes: an openness to work with European partners, a greater understanding of other cultures, the opportunity to experience other school settings first-hand (20 teachers have travelled from our school in the last two years), and new friendships developed both among teachers and among students.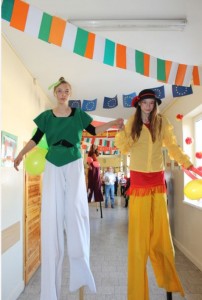 Yes, it took some extra work to be the co-ordinating school but nothing too onerous. Two years have passed as fast as Oisín on the horse to Tír na n-nÓg, and we find ourselves preparing to welcome 25 teachers from our partner countries for a week-long visit in April. However, inspired by the experiences of our first project, we are already looking at submitting an application for a new project.
The deadline for KA2 is the end of March, so if you like the idea of Erasmus+ you may be too late to get involved this year. Léargas run various workshops during the year to explain the programme in greater detail and to guide you through the application process, so keep an eye out for these. However, rather than wait a year, I would definitely advise you to get involved with eTwinning. It is a great starter project to dip your toe into the European waters. It also lets you establish good working relationships with European colleagues, and these relationships can serve as the foundation of a broader Erasmus+ application next year.
---
All images courtesy of John Weir. We welcome contributions and ideas for 'Insights' at comms@leargas.ie.