FYOUture of YOUth- Creating a vision for youth work across the EU
Conor Haugh, from the Airfield Estates Youth Activism project, recently joined 150 other youth facilitators from across Europe to discuss the EU's policy in that area. Over the three-day event in Bucharest, they also got to put their ideas to European decision-makers and draft a resolution on the future of youth in Europe.
In January, I had the opportunity to attend the "fYOUture of YOUth" conference in Bucharest, Romania. It was an eye-opening experience that revealed to me a whole world of exciting EU youth projects and creative funding opportunities. Thanks to the support of Léargas, who arranged my transportation, and the Romanian National Agency, ANPCDEFP, who organized my accommodation, I was able to immerse myself in the conference fully and even explore Bucharest in the days leading up to it.
As the only Irish representative at the conference, I was in high demand! Youth organizations across Europe are eager to establish partnerships and exchanges with projects in our country. I shared my experience setting up urban farm Airfield Estate's Youth Activism Programme and learned how other groups managed their's. I was impressed by how diverse and innovative the youth sector is across the EU.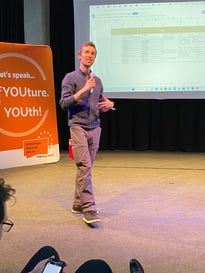 I met individuals and groups from all over Europe who were passionate about youth development. We shared our experiences, ideas, and best practices and we are continuing those conversations today.
The work at the conference was intense and satisfying. For three days, roughly 150 youth and youth stakeholders and I were tasked with mapping the current European funding programs dedicated to young people, identifying how these programs could be more efficiently implemented, and drafting a resolution concerning the future of youth in Europe in the next funding cycle (post-2028). We recognize that 2028 is still a long way off, but now is the time to start making our voices heard.
"This resolution will serve as a basis for advocacy and lobbying activities aimed at improving the youth sector in Europe. It was humbling to be a part of this process and to know that our work will reach decision-makers at the European Commission, the European Parliament, and relevant ministries in EU Member States (several of whom attended the conference on the last day to be presented with the resolution)."
The conference was facilitated by experienced trainers who ensured that all participants had the opportunity to contribute and make their voices heard. The interactive workshops and discussions were engaging, and I learned a lot from the experiences and perspectives of my fellow participants.
We also had the opportunity to participate in online meetings before and after the conference, which allowed us to prepare in advance, coordinate our efforts in developing the resolution, and disseminate it to a wider audience. It wasn't all work, either. On the second day, we were treated to a whistlestop tour of the capital and a delicious traditional Romanian dinner at Casa Oprea Soare.
Overall, the fYOUture of YOUth conference was a powerful demonstration of how youth and youth workers can come together to advocate for change. By leveraging our collective expertise, we can ensure that the needs and concerns of young people are prioritized in policy decisions. I am grateful to Léargas for their support in making the trip possible.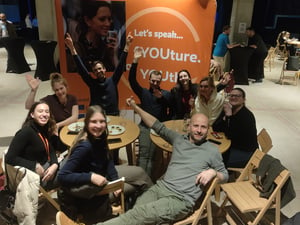 I was able to gain a deeper understanding of the youth sector in Europe and contribute to shaping an integrated and sustainable EU youth ecosystem. I encourage anyone passionate about youth development to link with Erasmus+ to attend similar events, as they provide a valuable opportunity to learn from and connect with our European neighbours. I am excited to see what the future holds for youth funding in Europe, and I am hopeful that our resolution will contribute to positive change.
For more information on training opportunities across Europe focusing on the Youth Sector visit our training and events page.
Signup to our Newsletter