Youth @Work NOT "Doing Business as Usual"
Catherine Bourne is a lecturer in Digital Arts and Humanities at University College Cork and is developing an arts in education digital repository for the Department of Education. As part of her Erasmus+ study, Catherine attended a training course organized by the Hellenic National Youth Agency on supporting inclusion and innovation in youth-focused social enterprise. This training opportunity was organised and funded through Leargas's Training and Cooperation activities to encourage collaboration and sharing of best practice within Erasmus+.
Between 11th -16th July 2022, I attended the Youth@Work NOT Doing Business As Usual training course in Athens with the Hellenic National Agency and facilitated by Konstantinos Spatiotis and Anna Simeone. Given my background in both formal and informal youth education, as well as my experience working for my local enterprise office as a business mentor, I was excited to learn about social enterprise generally and youth-focused social enterprise specifically.
"% of GDP produced in the EU is through social economy activity"
I was surprised to learn that 8% of GDP produced in the EU is through social economy activity! The training course was designed to promote a youth work approach that is meaningfully inclusive, creates the space for experimental and innovative methodologies, and places the social economy at the forefront of engendering personal, social and employment opportunities for young people.
We had the opportunity to visit two excellent local examples of social enterprises during the training. Firstly, Shedia meaning "raft" in Greek) a non-profit organisation that runs a café and provides 150 unhoused people with the opportunity of selling a purpose-made magazine on the streets of Athens for a monthly income and health insurance.
"Shedia has also opened a design studio above the café, which creates gorgeous items"
The organisation uses innovative and responsive solutions to support its employees. I was particularly interested in hearing about a phone app they adopted that indicates where the magazine sellers are in the city.
Shedia has also opened a design studio above the café, which creates gorgeous items like jewellery, magnets and home decor, some of which are made from recycled copies of the magazine. Part of the adjoining bar and some tables were designed to be suitable for individuals with physical disabilities and wheelchair users . The café also has a braille menu for the visually impaired and an audio menu recorded by a famous Greek radio presenter.
"An innovative self-supporting business and training entity"
The second social enterprise we visited was Myrtillo, which is located in buildings constructed after the Second World War with funding from Norway and equipped with a wide selection of machine tools/ In 1957 the complex was presented to Greece by the Norwegian Government to provide training facilities for disabled war wounded.
Today these five historic buildings are restored and handed over for use by groups supporting children and vulnerable young adults. Having opened in 2013, Myrtillo also operates as a cafeteria and arts centre. It is an innovative self-supporting business and training entity where all except one of its employees have a disability. We were treated to a fabulous meal and presentation on the history and work of the enterprise.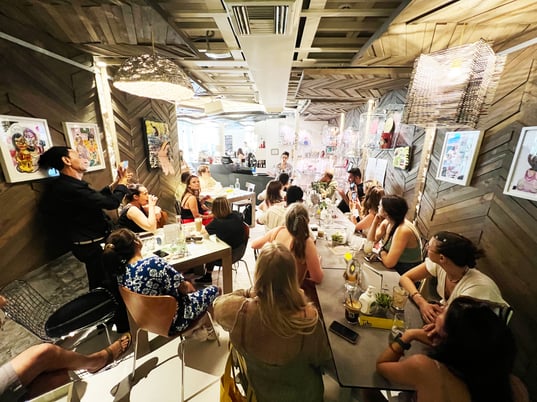 These engaging study visits provided inspiration for the key activity of the week - developing and pitching our own social enterprises. We were divided into four working groups and spent two days brainstorming and subsequently designing all aspects of a unique social enterprise using various inclusive social business development tools and working off a Social Business Canvas. We then pitched our ideas to the group for feedback.
"I'm very much looking forward to utilising my new skills locally!!
I found the week hugely inspiring and I'm very grateful to Léargas for supporting this opportunity. It was fantastic to meet with such a diverse group of youth workers from so many different places and both learn from their experiences and knowledge and also work collaboratively.
It was very useful to learn new competencies and awareness of various planning and development tools that I was previously unaware of. I'm very much looking forward to utilising my new skills locally!
Save
Signup to our Newsletter