How a teacher's idea led to a European Language Label award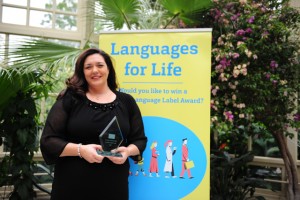 Applications for the 2016 European Language Label award close on Friday 26 September. Here Edel Ní Arrachtáin, one of last year's winners, explains how her award-winning project came about. The Language Label jury commented that her Irish language learning application 'Lingua-App' was 'innovative and well developed', and that the pupils who used it were well motivated by it. Here Edel explains the genesis of the project and how the app came about.
In June 2012, I had an idea. I was studying for my master's degree in Nua-Ghaeilge at Maynooth University, and researching 'target language learning'. This is a method where language is taught using only the language being learned, rather than the native language of the student. At the same time, technology in the classroom was a new reality and mobile devices were becoming widely available. The time was right to create a new language learning resource using tablet computer technology.
To do so, I needed a bit of know-how and a name. Although my initial idea was to produce an app for the teaching and learning of Irish (Gaeilge), I quickly saw the potential for it to be available in other European languages. With this in mind I chose 'Lingua-App' as the name. Not being familiar with writing an app, I brought my idea to An Chomhairle um Oideachas Gaeltachta & Gaelscolaíochta whose yearly schemes fund the production of resources for Gaelscoileanna and Gaeltacht schools. With their funding, I hired a designer to work on the logo, branding and layouts. I hired an app developer to write the code and the rest, I did myself. Most of my research and development about how the app should work was done in my own classroom in Moyle Park College in Clondalkin, Dublin.
I developed three main sections – Topics, Grammar and Spoken language. The pages in each section are linked to grammar pages, putting the language into context. As the project progressed, numeracy and literacy had become issues of national concern, as had the integration of grammar throughout lessons.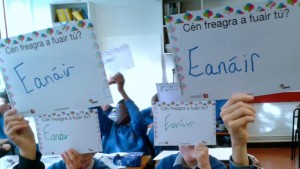 I began working on materials that could be used in classrooms, and developed a set of double-sided A4 showcards and ten A3 grammatical posters. The showcards have "Cén freagra a fuair tú?" written along the top, and prompt students to write down answers quickly. The reverse side has a large selection of vocabulary words, that students often spell incorrectly. This makes the showcards a resource to assist Assessment For Learning and peer-to-peer learning, as well as being a revision card in preparation for tests. The A3 posters have grammatical terms on one side, so the teacher can easily refer to them in the classroom. The showcards and the posters are laminated on both sides for prolonged use.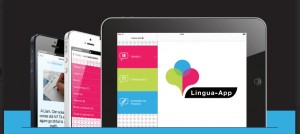 Lingua-App was developing into a full language package, based on my own needs and observations in the classroom. It was a steep but exciting learning curve. In July 2013, Lingua-App was submitted to, and accepted by, the Apple Appstore. In order to reach the widest audience, Lingua-App was released on Android devices in November 2014. This was made possible with the help and support of Foras na Gaeilge, who also supported the development of a website and promotional material.
From the outset, Lingua-App was intended to provide a language learning tool in the classroom, using the target language method. Students can download the app and check their spelling. Lingua-App keeps the score, allowing them to learn and progress at their own pace. It was also designed to assist parents to help their children with their homework, even those with a limited experience of Irish.
In September 2015, just over three years since Lingua-App was conceived, we received an esteemed European Language Label Award in Farmleigh House, Dublin. My idea has become a reality and I could not be more thrilled!
---
Lingua-App is a trademarked term. All images courtesy of Edel Ní Arrachtáin. We welcome contributions to 'Insights' at comms@leargas.ie.
Save
Signup to our Newsletter