'It's Good For Your Soul': From Leitrim to Xylokastro with the European Solidarity Corps
The European Solidarity Corps funds and supports young people aged between 18 and 30 from EU member states, to volunteer or self-organise projects that benefit communities. Young people can volunteer at home or abroad, in a Volunteering Project or a self-organised Solidarity Project. Here, Tanisha Maguire and Huck Johnson-Collins tell Communication Officer, Niamh McClelland, why their time as short-term European Solidarity Corps volunteers with Orfeas, a cultural and social organisation in Greece, ultimately led to the establishment of an eight-month placement with the same organisation. Ahead of returning to the town of Xylokastro as long-term volunteers, Tanisha and Huck reflect on the impact of their ESC experience, why they'd recommend it to others, and their hopes for the future.

Tanisha and Huck began their European Solidarity Corps journey through the Good Energies Alliance Ireland (GEAI). They started as short-term volunteers; a journey which they say resulted in increased independence, confidence and assertiveness, not to mention a desire to return to the Greek town as long-term volunteers! So, what exactly was it about their ESC experience that sparked that desire, and how do they think their experience has personally and professionally impacted them? Let's take a look!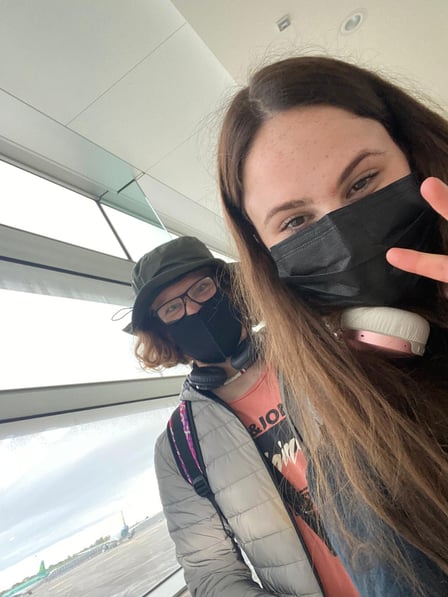 The European Solidarity Corps Journey: How It Started

For Tanisha and Huck, their introduction to the European Solidarity Corps was somewhat of a happy accident. Like many young people, they had heard about volunteering opportunities through their peers. "I found out mostly from my friend," Huck tells us. "He thought it [volunteering] was an amazing experience and he was really recommending it to me. Then I saw the flyer for it when I was doing the Leaving [Cert], so I applied then. We had the meeting arranged. It was all very quick!"

Tanisha, who has previously spent time studying in the Netherlands, was also encouraged by a peer to get involved. "I had a friend who posted on Instagram. He shared a story about the volunteers being looked for in Greece." Like Huck, Tanisha decided to give it a try, applied through the GEAI and was thrilled to reach the interview stage of the process. "I had [the interview] with Leslie and Simona. These are two of the loveliest people; I've never met lovelier people."
When they first approached the GEAI as potential volunteers, they were unaware of the organisation's connection with the European Solidarity Corps. However, Tanisha had familiarised herself with the programme while waiting to hear from the GEAI. She explains: "I didn't really know it was part of the ESC until afterwards - we were told to accept an email from the ESC, so me and Huck both just thought it was GEAI sending us to Greece!"

And so in July of this year, with the support of European Solidarity Corps funding, Tanisha and Huck arrived in the Greek coastal community and began their work with Orfeas, which has been hosting ESC volunteers for over 15 years. Having decided to dedicate two months of their summer to the upkeep of Xylokastro's streets, forest, beach and local parks, they soon began immersing themselves in the ESC way of life.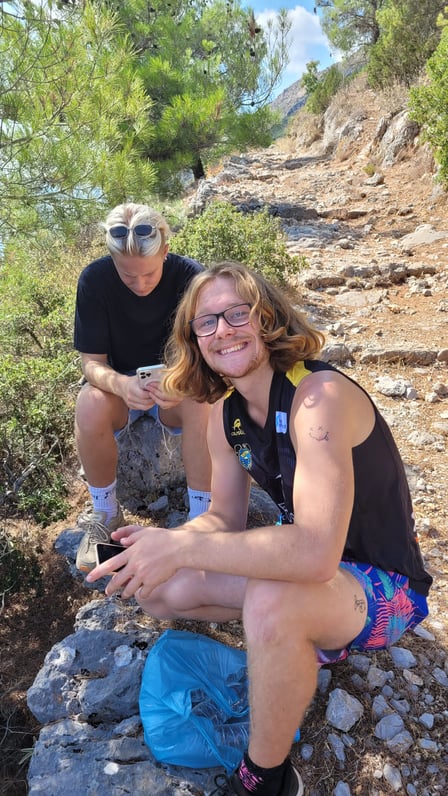 The European Solidarity Corps: What Can You Expect?

Between July and September, Huck and Tanisha contributed to the maintenance of the local area, with combatting climate change and preserving nature of considerable significance to both of them. "It's always been important to me," Tanisha explains. "I'm vegan as well, so I took on a plant-based lifestyle because I wanted to do my little part in combatting climate change and reducing C02 and my family is very big into recycling, so I knew I'd have to apply that out there too."

"I like nature. I like to help preserve it," Huck tells us. "While I was there, [volunteering] increased my interest." While Huck tells us he wasn't sure what to expect from his days volunteering in Xylokastro, Tanisha was anticipating a more intense working day than her friend may have experienced. "He said it was all good fun and it doesn't feel like work, but when we were sent the description I thought maybe it had changed a bit, cos it seemed a little - not harder - but more intense. A lot more work and that kind of stuff, I was still expecting fun, but I was expecting a lot more work."

As it turned out, their days were an ideal balance of work and down-time; both enjoyed in equal measure. "We got up around 7 or 7:30 and we just had a small breakfast as we were getting ready quickly to get to work," Huck tells us. "We left around ten to eight, just walked to the municipality forest or the harbour, and then we just cleaned the beaches and the forest, picking up rubbish, taking down old posters off the posts. It was very relaxed and the work was fun."

"A lot of the locals got to know me and would see me working and bring me coffee every morning and a doughnut or a croissant which I found so lovely," Tanisha smiles. Remembering an exchange she had with a woman, who was keen to hear Tanisha's motivation for volunteering in a community thousands of miles from her own, Tanisha told her: "It's an experience! It's good for your soul."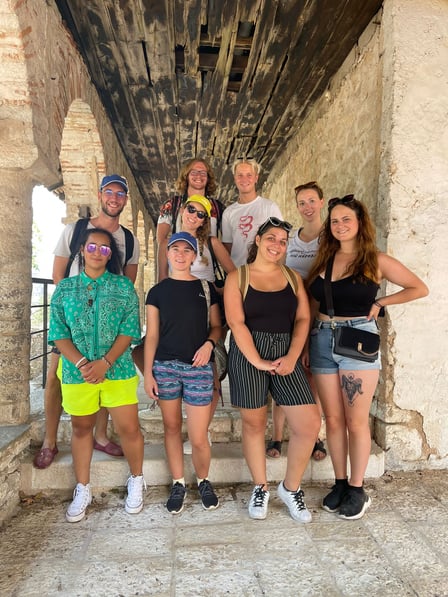 European Solidarity Corps: What is the Impact?

While it may certainly be good for the soul, it seems the European Solidarity Corps is also good for the CV! Indeed, both Tanisha and Huck are confident that their time in Greece will do much for their future career prospects, with Tanisha saying: "I think it's always a good thing to have anything to do with volunteering down on your CV. Most people work, and work for money. That's why they're there, but if you're a volunteer you're there for a community benefit. I think an employer looks at you differently, and go 'She'll be a hard worker. Her focus here isn't exactly money.'"

Having only ever travelled abroad with family, this was 18-year-old Huck's first experience of independent travel and it has helped shape his view of the career path ahead of him, saying: "I'd prefer to work abroad now more than I would have before. Now after travelling, I'd like to work in another country. I kind of wanted to work abroad before, but not really as much as I do now."

"I might do more voluntary work," he adds. "I'm not going to college because it's not for me. Voluntary work - I can put it on a CV and the experience will help. Not many people will have that experience!"

Professional development and career prospects aside, the European Solidarity Corps also highlights the opportunity for personal growth among its participants - something which Tanisha and Huck can attest to. In fact, Tanisha credits the European Solidarity Corps for increasing her confidence levels and sense of independence. "I learned to step up for myself. You can't go to your mam and be like 'Mam, I don't really want to do this. Can you tell them I don't want to do this?!' You have to step up and talk for yourself which is really, really helpful." But that's not all. Tanisha's outlook on life has also changed for the better, adding: "I'm a lot more optimistic about things. I feel a lot stronger as a person. I think my personality has developed a lot more." Like Tanisha, Huck also experienced a surge in self-confidence and self-reliance, saying: "I'm more confident talking to and meeting new people. I feel more confident and independent."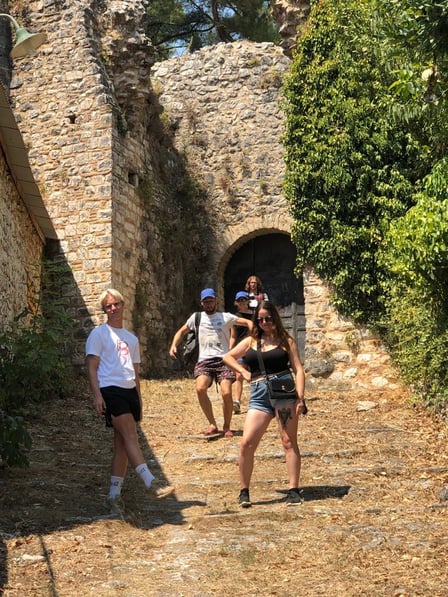 European Solidarity Corps: From Short-Term to Long-Term Volunteering

As it stands, Huck will be returning to Xylokastro this month as a long-term volunteer while Tanisha hopes to return to the Greek community after Christmas. So, what was it about his short-term volunteering experience that made Huck want to return? "It was being with the long-term volunteers," he replies. "I got on with them quite well and the work was fun and I thought I'd enjoy it even more!"

Having arrived in the town unsure of what to expect from his stay, Huck now has clear goals for his return. "Learn more Greek and try to see more places on the weekends. Meet more new people. I was mostly with the volunteers [during the short-term stay]. When I go back I will try to meet more people who live there locally."

And what do the next eight months look like for Huck? Well, after two months tending to the environmental upkeep of Xylokastro, the 18-year-old will now be volunteering with Orfeas' Youth Centre - something he feels will help with language learning and immersion in the community.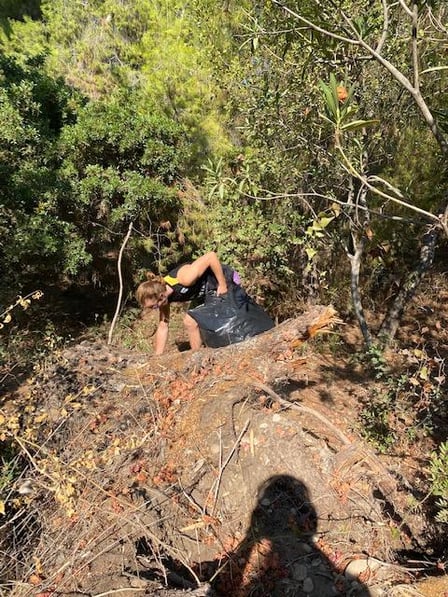 The European Solitary Corps Experience: Is it Worth It?
Given that both young people intend to return as long-term volunteers, it certainly seems like the European Solidarity Corps is worth it! In fact, Tanisha has been encouraging friends to get involved since her return to Leitrim in September, and is keen to dispel the myth that volunteering is only open to those from particularly privileged backgrounds.

"Look it up," she encourages potential participants. "There's loads of different things in different countries. Things are added every week or every month. You can go to another country. You don't have to be completely rich to do it. You have financial support when you do it!"

With that said, Tanisha is keen to reiterate the importance of dedicating yourself to your volunteering duties at all times. "When it's your working time, work during those hours and do your ultimate best. Then you have so many other hours in the day to play and mess around, but when it's your working time, do your work!"

Similarly, Huck sees the importance of learning a little of your host country's language, and if you find yourself in Greece: "Learn Greek! It's really nice to be able to speak Greek to everyone there and they really appreciate it as well."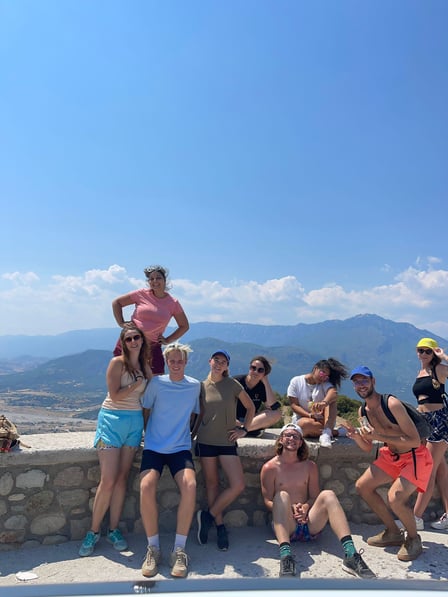 For more information on getting involved with the European Solidarity Corps, please contact Suzanne Kavanagh.

Images courtesy of Huck Johnson-Collins and Tanisha Maguire.


Signup to our Newsletter