Queerasmus - Supporting LGBTQ+ Youth with Erasmus+ 🏳️‍🌈
In May 2022, Léargas hosted an international event in Dublin called Queerasmus. This Erasmus+ Training and Cooperation Activity for youth workers and those working with LGBTQ+ young people. Attendees exchanged ideas, shared best practices and collaborated on how to best support LGBTQ+ young people through Erasmus+.
Who took part in Queerasmus?
Twenty-seven participants from 13 countries attended Queerasmus representing Italy, Netherlands, Poland, Slovenia, Sweden, Croatia, Albania, France, Sweden, Greece, Spain, Portugal and Ireland.
There was a mix of youth workers, youth leaders, and young representatives (18+) from LGBTQ+ youth groups and youth organisations. It was a busy and inspiring couple of days!
What are TCAs?
TCAs (Transnational Cooperation Activities) are the first stepping stone into the world of European programmes. For many attendees, this is the first time they get to see what's happening in similar organisations at a European level. It's a collaborative sharing space and an excellent way to learn more about Erasmus+ and European Solidarity Corps.
Why Queerasmus?
Inclusion and Diversity is one of the four key Erasmus+ priorities. The goal of Queerasmus was to bring people together to learn from one another and get inspired by each other's activities in supporting LGBTQ+ youth throughout Europe. The meeting operated as a place to find new reliable Erasmus+ project partners and build a safe and solid foundation for future cooperation within the Erasmus+ programme. Participants were given a chance to develop creative ideas for international collaboration and to become familiar with Erasmus+ and the funding possibilities available.

Best practices for LGBTQ+ Youth projects:
Barry McSkeane, National Network Coordinator at BeLonG To Youth Services, presented his tips for best practice LGBTQ+ focused Erasmus+ projects. These included ways to emphasise common ground, shared values and impact.
The enthusiasm and hope at this event was palpable, and all attendees agreed to take the next steps for collaboration and to start their Erasmus+ journey together. Some project ideas included Breaking Binary and Our Queerstory, a youth exchange creating a platform for sharing queer history. Participants left full of new ideas and motivation, with connections with new project partners and a feeling of empowerment.
What did participants leave with?
Knowledge of how Erasmus+ can support their LGBTQ+ youth work practice.
An understanding of how to apply for funding for their international youth projects.
New tools for project planning and project life cycle.
Clarity on what makes a good partnership in international projects.
An understanding of how to connect the dots between policy and practice and include these important elements in their application and project.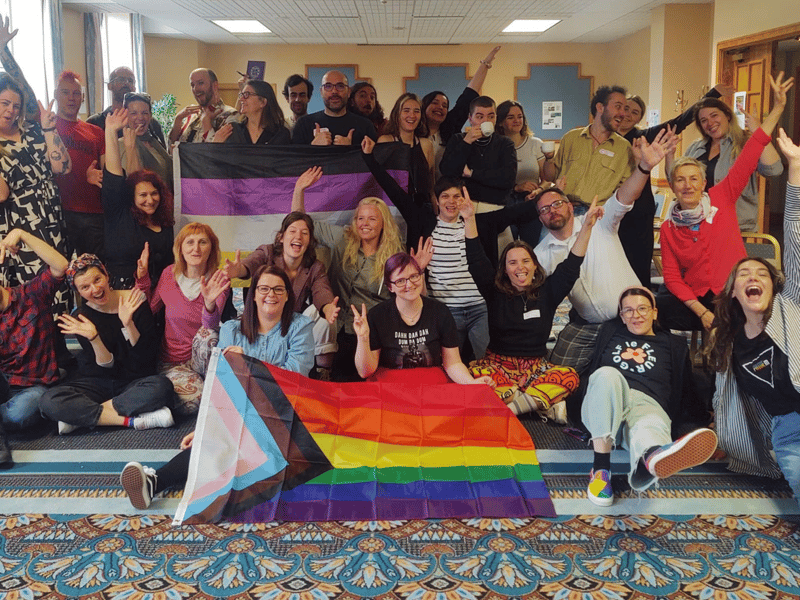 If you are interested in supporting LGBTQ+ Youth through European programmes, please contact Jane Carter at Léargas today.

Jargon busting

LGBTQ+

Lesbian, gay, bisexual, transgender, and queer

Queer

is an umbrella term for people who are not heterosexual or are not cisgender.

TCA

Transnational Cooperation Activity. TCAs are events arranged by National Agencies in Europe such as

Léargas

to encourage collaboration and sharing of best practices within Erasmus+.

Erasmus+

is the European Union education, training, youth and sports programme. It provides funding and support for organisations to carry out projects that match their objectives and encourage European exchange, cooperation and learning.
If you are supporting a LGBTQ+ young person and need advice or resources visit Belong To LGBT Youth Services.
Signup to our Newsletter