Supporting the use and learning of home-languages in schools
Caroline Walters, from St. John's Girls' and Infant Boys' School, and Valérie Tison, from Ériu Community College, recently attended the Transnational Cooperation Activity (TCA), "Supporting home languages and the languages of schooling with Erasmus+". These two teachers participated in a study visit to Maynooth Post Primary School. They learned about an ambitious programme encouraging students to use their home languages, such as French, Spanish, German, Polish, Russian and Romanian.
On Thursday, 17th November, at 2.30 pm, we visited Maynooth Post-Primary School. Dublin traffic slowed us down, but we eventually got there thanks to our bus driver's expert driving skills!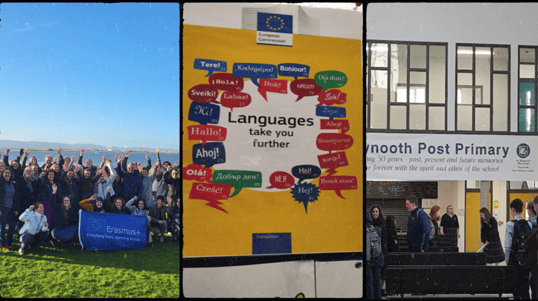 As we arrived, we were struck by the nice, warm, convivial, bright secondary school building. The students were so polite and welcoming as we walked through the school. The principal, Johnny Nevin, welcomed us to his school. Maynooth Post Primary school was established in 1971 as a co-educational multi-denominational school with non-selective entry run under the auspices of the County Kildare Vocational Education Committee. The current enrolment in 2021/2022 is 1,010 students.
It is the largest post-primary campus in Ireland as it has a Community College and a Gaelscoil beside it. The school has over 33 nationalities, and the students are motivated to learn and use their home language. They sit exams in French, Spanish, German, Polish, Russian and Romanian.
The student's voice was evident as we listened to 5 pupils' experiences. Helen English is the EAL coordinator and introduced us to the Erasmus+ projects she is involved with. She set up a home language club in 2017, and they had children from Russian, Polish, Maltese, Albanian and Lithuanian backgrounds. Parents help out with this club, and the PPLI funds teachers.
The first student we met was from a Russian/Romanian and Moldovan background. She spoke highly of the TY 4th class EPAS programme and how the EU works. The students see the culture of the other students through online collaborations.
The next two students attend Polish after school. They study for an hour and a half two evenings a week. The classes are small, with 4-5 students, and they learn so much about the country's culture and history. They love staying in school as the principal sends sandwiches and drinks to encourage the kids to stay in school!
They organised an International Day with food stalls, and students and staff were encouraged to wear their national dress. They also participated in a European Translation Competition, Jovenes Translators in September 2022.
The next student we met learned Russian to communicate with his grandmother in St. Petersburg. We saw a lovely Christmas card he had created for her in Russian, which was so well received and appreciated.
A girl with a Chinese background spoke about how she didn't have to choose between her two cultures. The school and the extra help with her home language helped her to be a part of both languages.
The last girl was from a mixed nationality background. Her intercultural day stand allowed her to meet students who spoke some of the same home languages as her - Slovak, Lithuanian and Russian.
We also heard from the language teacher Giorgana Goci, about how they support Romanian teaching in their school and in Ireland. They are involved with many volunteers in storytelling sessions, theatre courses, creative writing workshops and all levels of Romanian learners. They also have a reading club within the school.
These students were so eloquent we can safely say they were an inspiration for all of us.
Valérie Tison, Caroline Walters & the Team
Signup to our Newsletter