Time to Move, 2021 style! Find opportunities to work, study, volunteer, or just to have fun in Ireland and beyond
Time to Move 2021 encourages young people to seek out opportunities to work, study, train, or volunteer in Europe. It's organised by the Eurodesk network and Eurodesk experts will be on hand throughout October to give personalised guidance on international opportunities!
Maria Conte from Voluntary Service International presents some highlights of the Time to Move programme in Ireland. Visit the Time To Move website to see the full list of events, and a handy map of local youth information centres.  Follow the campaign on socials with the hashtag #timetomove2021
*Note that all in-person events will follow Covid safety protocols, and be held in line with government guidance.

N

ational Online Chat Service  
The Youth Information Online Chat Service will answer questions and offer support to anyone interested in European opportunities through 'YI Chat' (Youth Information Chat). YI Chat is an easy-to-use chat service that works just like WhatAapp or Facebook Messenger. The chat service connects young people with a trained Youth Information Officer who can provide them with personalised information. The service is a great way for young people to get more information, learn about their opportunities, and talk through their own situations with someone who can help. This service is free and is available all year round!  The YI chat service runs from 4 to 8pm Monday to Friday, and you can leave a message and get an email reply outside of those hours.
More information: Julie Kelleher jkelleher@crosscare.ie



Time to Move with Mindfulness!
Sligo County Council and Sligo County Library are hosting an interesting event for local Transition Year students. There will be a presentation on the benefits of studying and volunteering abroad, followed by a mindfulness walk through the forest to promote mental wellbeing. After these challenging 18 months, this activity sounds like a dream and is not to be missed!
More information: Brenda Cawley bcawley@sligococo.ie 


Just take a Minute - A Wellbeing Morning 
Waterford and South Tipperary Community Youth Service are holding a lovely mental health and wellbeing morning on 20 October especially for students of their alternative education programme XLC. After a light, healthy breakfast there will be a 40-minute yoga session followed by some mindfulness activities. What's not to like!?
More information: Amy Doherty waterfordyic@wstcys.ie 



Get Re-Connected to Nature - Local Forest Walks
If you're craving a bit of nature and want to get outside, Crosscare Youth Information Service and Clondalkin Youth Service have you covered. They are organising a couple of local forest walks and outdoor activities throughout October, all to help local groups get back in touch with nature, have some craic with friends and meet new people. The walks will be accompanied by some information, guidance and resources on the European Solidarity Corps.
More information: Susan Scott cysinfo@crosscare.ie 

"Adventures in Berlin" Online Adventure Game
If you fancy a bit of a virtual adventure and want to learn about Eurodesk and EU opportunities at the same time, the "Adventures in Berlin" game is the perfect option for you. Time to Move: Adventures in Berlin is a two-player point-and-click game inspired by escape rooms where players cooperate to solve riddles and challenges. This game session will also take place in Donegal Youth Service. This session is open to drop-in users aged 15 to 25, with no booking required!
More information: Katarzyna Kurzeja katarzyna.kurzeja@donegalyouthservice.ie
What does Climate Justice Mean to You? Online Photography Exhibition
Voluntary Service International's online and 3-D exhibition will highlight the importance of the climate justice movement and just how much social justice and human rights are linked to the climate. This is an important cause, so get snapping! Anyone can take part in this exhibition; it is a free and open space for participants to express and share with others their personal take on what climate justice means to them, and hopefully encourage others to join the climate justice movement. Let your imagination and creativity run wild! 

More information: Maria Conte volunteer@vsi.ie 
Want to learn more about volunteering in Europe? Check out this great podcast, developed as part of a collaboration with South Dublin County Partnership, Crosscare and Voluntary Service International. Susan, a Youth Information Officer, and Mateja, VSI's then-Volunteer Programme Coordinator, talk about what volunteering opportunities are out there, including a great introduction to the European Solidarity Corps, the benefits of volunteering and all the supports, information, and guidance they can offer you to help you on your volunteering journey. Definitely a must listen! 

More information: Susan Scott cysinfo@crosscare.ie and/or Maria Conte volunteer@vsi.ie  
Employment and Volunteering in Ireland and Europe - Online Resources
This 'Work in Europe' Resource was designed to encourage more young people to explore the options available to them. Download a guide about working in Europe and find out who can support you in your job search. This was designed by the Crosscare Youth Information team in conjunction with the launch of the European Employment Podcasts (a great and very helpful series of videos and interviews of both young people who have directly benefitted from volunteering and professionals providing handy information) organised by The Europe Direct Centre at Blanchardstown Library,
More information: Susan Scott cysinfo@crosscare.ie 



"Discover Europe from your Fingertips" - all the information you could ever want or need in one place! 
Voluntary Service International has developed an all-inclusive interactive info pack on diverse mobility opportunities for young people both abroad and in Ireland! It also has useful videos from young people describing their mobility experience so it really helps to clear up any doubts you might be having about going abroad or about volunteering.
So, that's some of the line-up for Time to Move 2021! It's a great one, if you ask me, you're absolutely spoilt for choice! Be sure to check out all the events and connect with other young people all across Ireland. It's a great opportunity, so make the most of it! To find out more about these events, contact Eurodesk Ireland. 
Thank you to Maria Conte. Visit the VSI blog for her original post.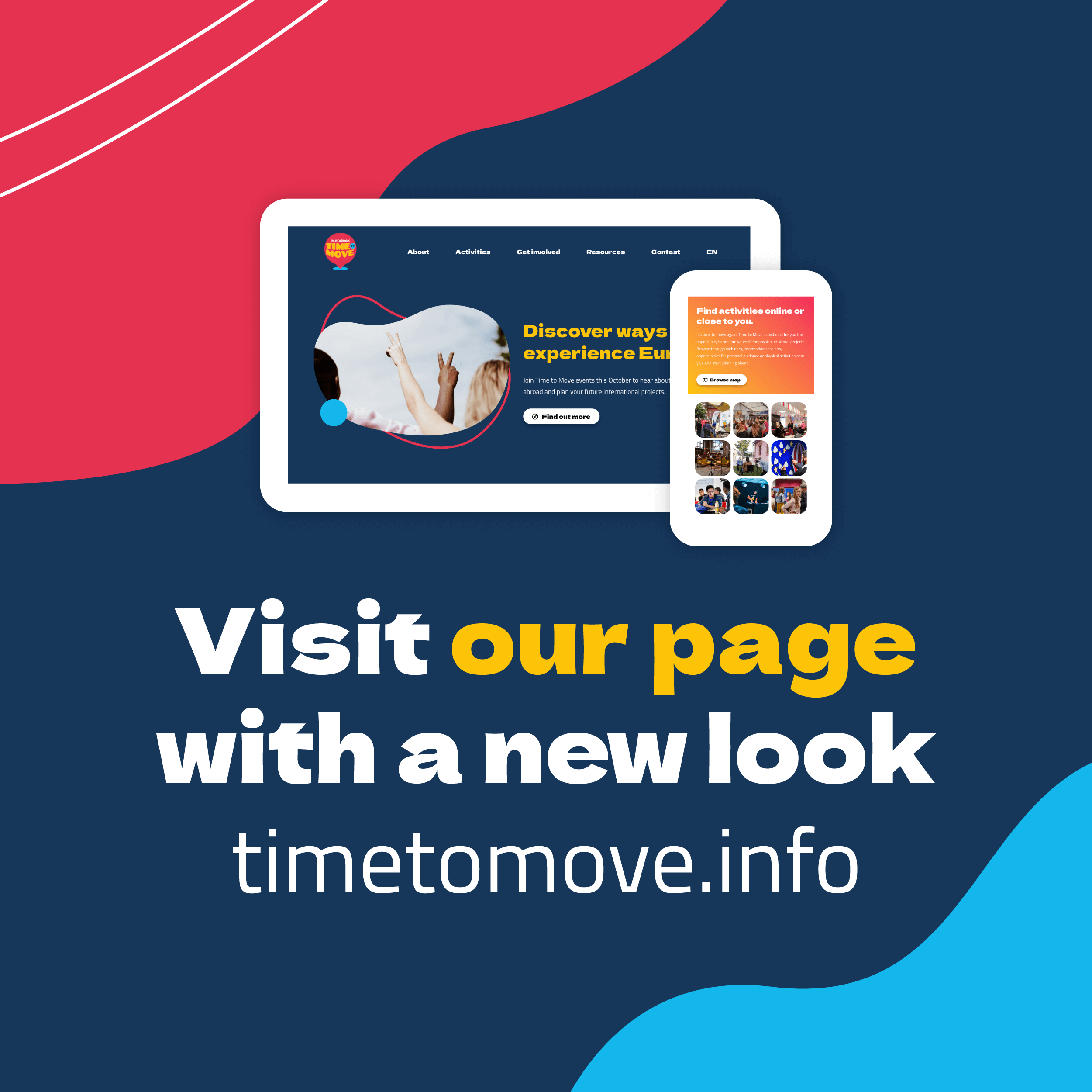 Signup to our Newsletter