Civic Spirit and Lockdown Leadership: The Impact of the YELL Yhdessä Youth Exchange
A Youth Exchange is a type of Erasmus+ Mobility project that helps youth organisations to send young people to another country to learn and develop their personal and professional skills. Here Communications Officer, Niamh McClelland, chats to Stacey Lyons, a Youth Worker with Limerick Youth Service about their Youth Exchange with Kuopiob Kaupunki in Finland, and the personal, professional and civic impact it had on the participants.

Covid-19 has played with our perception of time. So much has happened and yet, so little has happened. Some parts of our personal lives have been put on hold and, for many of us, memories of the pre-pandemic world seem distant. This can't be said, however, of the young people involved in the YELL Yhdessä Youth Exchange in 2019. According to Stacey Lyons, a Youth Worker with Limerick Youth Service, their memories of the exchange are as clear as day, perhaps because its impact is felt as profoundly today as it ever was.

An advocate for Youth Exchanges since her own participation as a teenager, Stacey is perfectly positioned to assess the impact of the mobility project, recalling the personal growth she witnessed among the participants, the widespread civic spirit it generated, and the enduring interest it still enjoys despite coming to an end almost two years ago.

"I started volunteering with Limerick Youth Service when I was 16 through a Junior Leader Programme," Stacey explains. "As time went on, I decided, 'this seems cool!'. It's what I want to do, so I decided to do Social Care in LIT with the aim of becoming a Youth Worker. In that time I got the opportunity to volunteer across Limerick city and county, and then I got to take part in a good few international opportunities also. It started off with a Youth Exchange in 2009 to Italy with a group from Dublin, and then I was like 'This is it now! This is what I want to do!"

From Youth Exchange to Youth Worker

Having first-hand experience of Youth Exchanges and their personal and professional impact, Stacey was eager for the young people she worked with to participate in exchanges, especially when she realised they were eager to take on more responsibility. "They were all around 16. Some were turning 17. They were even getting to the stage where they were saying 'I really like coming to club, but I kind of want a bit more. Can I be a volunteer with your younger groups? Can I help you out with this?' And they were also asking 'Have you any training I can do that I can put on my CV?'"

And with that, the YELL Yhdessä Youth Exchange was born. Stacey explains that the name is a nod to a previous youth group within Limerick Youth Service called Youth Empowerment Looks at Limerick (YELL), coupled with a tribute to their Finnish partners.

"When I was coming up with the name for this exchange, I was talking to our Finnish partners, [and] we were trying to combine our two cultures and languages together, and then eventually YELL Yhdessä happened. 'Yhdessä' essentially means 'together' in Finnish," she says. "Youth Empowerment Looks at Limerick together, and they could now be part of this piece of history in this organisation, and this programme."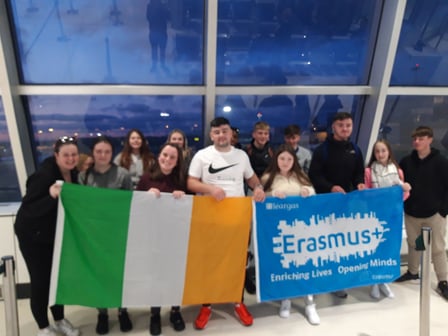 Youth Exchange: Personal and Professional Impact

Partnering with the group in Kuopio, the exchange sought to develop independence, leadership skills and intercultural awareness among its participants - aims which were undoubtedly realised, alongside a number of others. Indeed, the impact of the project could be seen as early as the preparation stage when the young people were invited to interview for their place on the exchange.
"That's something they still talk about – the interview process." Stacey says. "How it made them feel even more confident going into a job interview later on because [they say] 'I thought that was really scary and it turned out really well, so now when I'm going into a job interview, I think about that and I go 'No, I did really well in that, so I can do really well in this.'"

This new-found confidence is now mirrored in their interpersonal relationships - something which Stacey also attributes to their experience of the exchange. Following a few initial teething problems, a number of the project participants from Limerick recognised barriers to constructive communication and ultimately identified tools to avoid conflict. Giving an example of how the young people in her group approach youth workers when they encounter issues with one another these days, she explains they simply say: "'Stacey, right now I feel like this and I feel like this is what we need to do to sit in this room'."
"You identify your feelings, you know your boundaries," Stacey says. "The communication was amazing, but the biggest thing for me was them being able to identify their boundaries, and what they were comfortable and uncomfortable with and what they need to participate."
Personal growth can also be seen in the navigation of fears and phobias among project participants, all of which contributed to a heightened sense of independence. "We had one girl who was terrified of flying and even on the day we were leaving I was like 'Are you sure you'll be able for this?' and we were trying to arrange it so that my colleague would sit next to her," Stacey remembers. "That was the biggest achievement for us, that girl."

"Her mam's been trying to plan a family holiday abroad for ten years and she won't get on the plane. When we landed in Finland at two in the morning, she rang her mam, saying: "Book the holiday! It's OK! I'm OK! I survived!" I could hear her mother nearly crying down the phone like 'That's amazing'. The entire group were in the airport: 'You did it! You did it!' And just how happy she was - that was the biggest accomplishment I think of that week, I thought she was going to drop out of the trip that morning."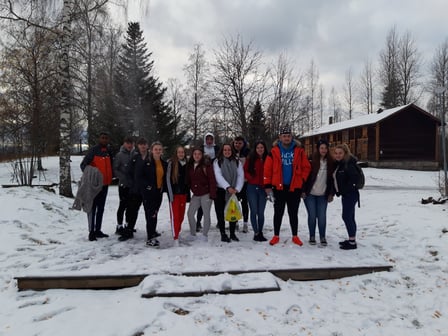 Youth Exchange: Cultivating Civic and Cultural Awareness

From personal and professional growth to the cultivation of civic spirit and cultural awareness, the impact of the exchange was especially evident when the young people from Limerick welcomed their Finnish partners to Ireland. It seemed hosting a group of young people from overseas sparked a strong sense of pride among the Irish group - something which Stacey was delighted to see.

"For kids who normally would be like 'Everything is sh*t. There's nothing here for me. I don't care. No one cares about me' to then be just so happy and enthusiastic. Like 'This is my city and I can't wait to show you everything'."

However, the pride in Limerick and the desire to showcase Irish culture wasn't limited to the project participants, with Stacey recalling that the exchange became something of a family affair as parents were keen to contribute where possible. Indeed, the impact even extended beyond the family, with the wider community eager to learn more about the activity.

"The parents really got involved in any way they could. Even in the local community, everyone gets on board... When the [young people] went back to school in September, a lot of members of the school - the principal, their teachers, their Year Heads - were asking how they got on."

But that's not all. Beyond the family home and the school halls, the project made an impression on members of the community who hadn't shown any interest in participating. "That, for me, was the biggest impact in the community," Stacey says. "There was young people, who would have been extremely closed off to anything like this, and then their interest got piqued when they saw it happening. They were asking after the Finnish, and the Irish were introducing them. It was fantastic to see."

"Still to this day, I became known as 'the woman in the building who brings people abroad'. And when we came back, there was a lot of young people saying to me 'When can I do that? When are you bringing me away?'."

YELL Yhdessa: Leadership in Lockdown

Following their return from Finland at the end of 2019, the YELL Yhdessä group began the leadership element of their journey. This part of the project saw them volunteer with younger groups, host underage discos, and fundraise for the building.

And then in March 2020, the pandemic and associated lockdown hit Ireland. While the pandemic hindered the group's physical plans, Stacey says their new-found sense of leadership could be clearly seen in their response to the global crisis.

Stacey remembers their offers to support her in her youth work and their inclination to rally younger members, all the while navigating a new normal themselves. Perhaps unsurprisingly, they used their time in Finland as a foundation, with Stacey recalling: "They were like 'Do you need help with that? I can come on Zoom and I can play a game with them. Remember that game we played in Finland. I could play that on Zoom with them!"

Eager to continue their leadership journey when possible as the months went on, they displayed a level of enthusiasm and dedication which Stacey believes fortified her own relationship with them, saying: "The Youth Exchange made my working relationship with them a lot stronger because no matter any time I meet them, Finland will come up."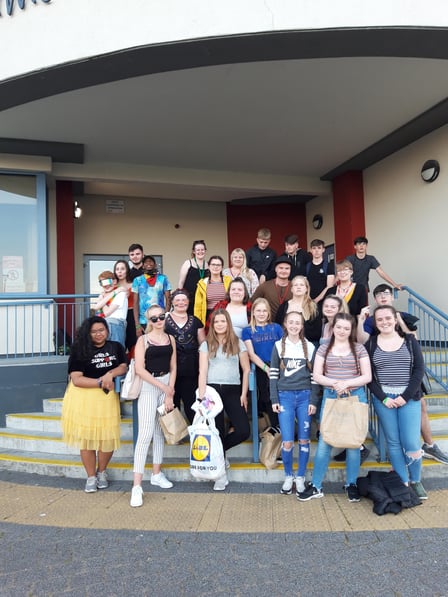 The Ripple Effect

Youth Exchanges are designed to bolster the skills of those involved and positively impact their personal, professional and cultural outlook, and there is little doubt the YELL Yhdessä Youth Exchange did exactly that. Encouragingly, however, its effect could also be felt outside of the core group of participants.

"For me, the biggest impact is that there are young people, who weren't even part of the project, talking about it," Stacey says. "It was 13 young people and it trickled throughout the community. It was amazing to see. A lot of the teachers were asking them to speak to the classes about it; this is what we did, this is what we learned. They had a massive sense of pride in that."
"The best results we could have gotten was coming directly from the young people," she smiles. "Them telling their stories is always amazing. The fact they're still actively engaging in communication in some way after two years."
For more information on the opportunities available through Erasmus+ Youth Exchanges, visit our Youth Exchanges page.
Images courtesy of Stacey Lyons.
Signup to our Newsletter