Amina Moustafa: The Evolution of the Erasmus+ Experience
When it comes to Erasmus+ and the abundance of opportunities available to the public, Amina Moustafa is exceptionally well-versed! Amina has been involved in Erasmus+ over many years and here she tells our Communications Officer Niamh McClelland about her experience in both the pre- and post-Covid landscape.

Whether participating in training courses or facilitating Youth Exchanges, Amina Moustafa has experienced much of what Erasmus+ has to offer from a variety of perspectives. Taking her first tentative step into a training course in Cyprus as an 18-year-old, Amina then went on to secure funding and facilitate training in Poland and Ireland just a few short years later. Now in her 20s, Amina has thrown herself into European programmes with all the gusto of someone who has both seen and felt the transformative power of the processes.

Having joined Sports Against Racism Ireland in 2014, Amina soon became involved in Hijabs and Hat-tricks, an inclusive programme designed to encourage Muslim girls and young women to participate in football. Her involvement in both triggered what she dubs her 'lightbulb moment'. "I realised very quickly after joining SARI and the Hijabs and Hat-tricks programme that there was so much more to sport; that sport had the potential to make a difference, to change people's understanding, challenge racism and discrimination."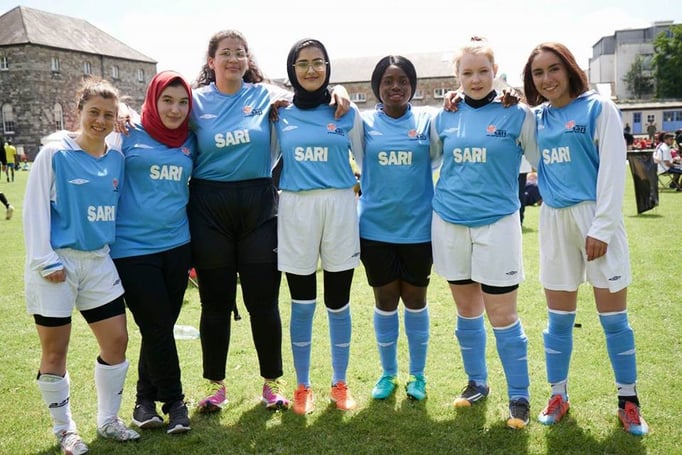 Invigorated, Amina started volunteering in other programmes and got involved in anti-racism organisations. "I contacted ENAR Ireland; European Network Against Racism. One of the coaches that was the coach For Hijabs and Hat-tricks at the time told me about training courses with Erasmus+."

And so began Amina's Erasmus+ journey.
Sports, Outdoor Activities & Participation
"The very first training course that I ever went on was the one in Cyprus, the Sports, Outdoor Activities & Participation," she remembers. "That was in 2015, so I would have been 18. I had no real understanding of what it was going to be. I thought I did, but in terms of expectations and reality, it was very different!"

Indeed, it was Amina's first experience of non-formal learning methods, and something which ultimately shaped her own approach to teaching. "I hadn't really thought about how you could teach someone something or put across a message outside of a classroom. I still have that book where I wrote all the notes from that training course. I can say that definitely changed the way I thought about delivering workshops."

"Even now, I'm a teacher - an academic associate with a university. I contribute to the first year module, and when I'm thinking about how to put across some of the learning objectives in the module I think 'OK, how can I use non-formal learning methods to make it more interactive, more fun?'"
The Economic Forum of Young Leaders
Having enjoyed a fruitful introduction to European programmes, it's no real surprise that Amina continued to explore the opportunities available through Erasmus+. Following her time in Cyprus, Amina decided to take part in an Erasmus+-funded programme called The Economic Forum of Young Leaders; a decision that proved particularly fortuitous.

"I met two young people who had founded their own organisation and were using Erasmus+ funding to create training courses to teach people similar skills that they could implement into their organisations. Because they were so young, I was like 'How did you have the money for that?' And they were like 'Oh, we applied for Erasmus+ funding'. I knew about Erasmus+, but I didn't realise you could apply to run something yourself!"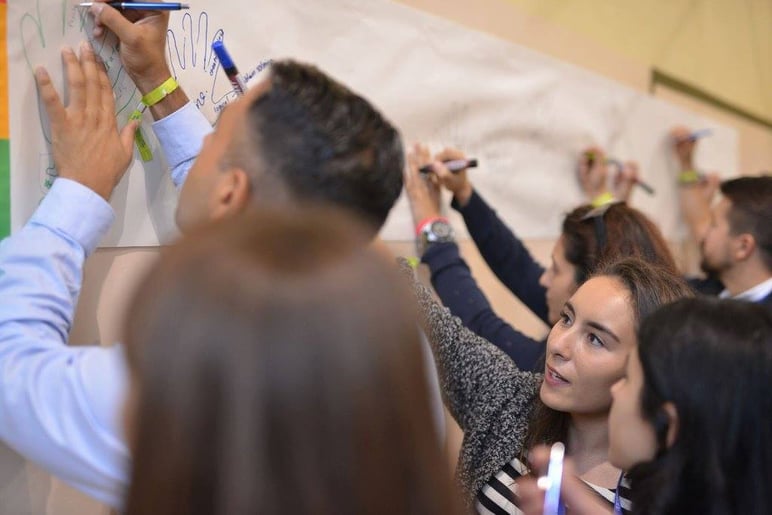 Thrilled to learn that there was more to Erasmus+ than she had realised, Amina stayed in touch with her peers from Youth of Europe, telling us: "I had a few Skype sessions [with them]. I was like 'OK, pen and paper, explain this to me!' And then they were like 'Why don't we do a training course together?'"

And with that Step Up for Inclusion was born.


Step Up For Inclusion
"We had six different countries, so six partners from six different countries. It was Ireland, Poland, Lithuania, Latvia, Romania and Egypt," Amina explains. "We wanted to look at cultural heritage, social inclusion, connecting with and trying to understand your identity and belonging, but it was mainly about social inclusion - using sport as a non-formal learning tool for promoting social inclusion and encouraging cultural dialogue. The first one was in Poland and it was a Youth Exchange."

While Amina herself was unfortunately unable to attend due to a scheduling clash with her academic work, the trip in Poland was an all-round success.
"I know a lot of the people who went from SARI. It was their first time ever doing anything like that," she says. "It's always amazing to see when young people come back they want to be young leaders. They don't want to be participants anymore. It's like they want to see what goes on behind the scenes. They would constantly message me and be like 'Is there anything else we can get involved in? Is there another training course?' So, they got involved in coaching [and] they would deliver workshops for SARI afterwards."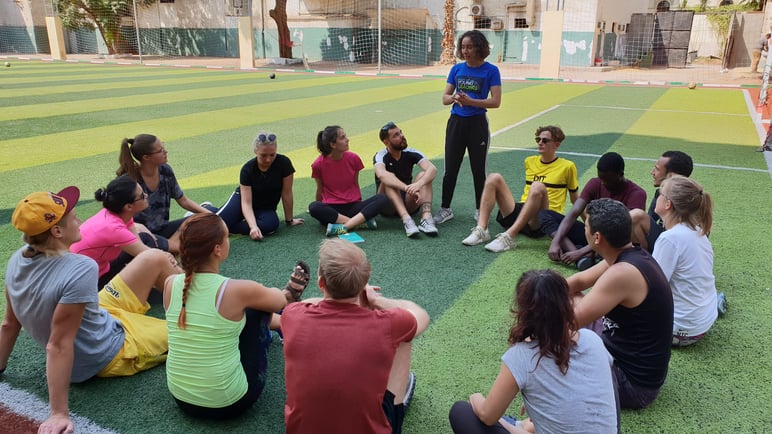 "I remember one guy," Amina continues. "I asked him if he wanted to do it. He used to be so shy, but I could see that he was really interested in those things, but he just wouldn't really talk about it unless you talked to him one-to-one and then it was like he was a completely different person. I wasn't there so I didn't really see the transformation, but when he came back he was so bubbly, super outgoing, a completely different person."
"This is why I love training courses! And youth exchanges!" she laughs. "Anything like this, it really brings people out of their shell and pushes them outside of their comfort zone and completely transforms some people."
With the second part of the exchange taking place in Ireland, Amina was in a position to participate and threw herself into the experience. "We were supported by SARI as well, but they gave us free rein doing this, in terms of running the programme. I think that's very important because Erasmus+ Youth is for young people - so it should be young people delivering the programmes, or learning to deliver the programmes. The young people really stepped up, learned to be flexible and adapt to different situations!"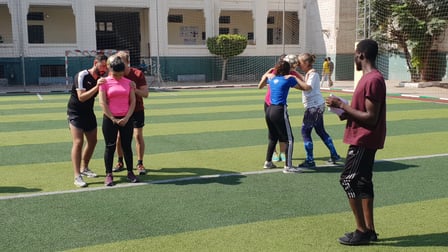 Combatting Hate's Journey
Indeed, learning how to adapt to different situations and exercise flexibility in a changing environment is something each and every one of us has had to do since the outbreak of Covid-19 at the beginning of 2020. And while nationwide restrictions are relaxing around Ireland at the moment, it would be naïve to assume that life as we once knew it will make an instant return. Many of the practices put in place to curb the spread of Covid over the last 15 months will continue in some capacity for the foreseeable future, and training courses are no exception.

Having taken part in a number of in-person trainings over the course of the last six years, Amina recently participated in a six-week online training course called Combatting Hate's Journey. She is particularly well placed to provide insights and advice on the best way to approach online courses. With the landscape of Erasmus+ training altered for the foreseeable future, it's definitely worth considering Amina's words of wisdom when it comes to digitalisation of training courses.

Digital courses are not without their difficulties and making the most of the experience requires a little more effort on everyone's part, but as Amina says, it all comes down to adjusting your expectations. Yes, things won't be the same, but that doesn't mean that positives can't be found in each session!

Embrace the Flexibility
"The online training really can appeal to those who don't have that flexibility because I could do the online learning myself. There was a lot of independent learning. We had videos with discussion points that you could follow along with and then the thing that I was really looking forward to was the synchronous bit, where we were doing something as a group."
Embrace Different Modes of Connections


"Reach out and send an email and say 'I

saw

you

'

re

doing the same course as me. Do you want to have a chat before the session to get to know each other a bit better?' I know it means you

have

to

put in a bit more work

,

but it will

definitely pa

y

off."



Embrace the Unknown




"I didn't know a single person, which I was

really happy

about,

because

it meant these are all new connections

that I have!

Ne

w friends

I can make

and future partners

for something,

and people

that

can share their

experiences!"




From in-person participation and peer-to-peer networking to youth exchanges and online training, Amina's story isn't just a snapshot of the innovative and motivated individuals drawn to the Erasmus+ experience, but an insight into so much of what European Programmes have to offer!

For more information on the opportunities available to you, visit our website.

Images courtesy of Amina Moustafa.
Signup to our Newsletter