Bród/Pride 2022 🏳️‍🌈
At Léargas we believe in Pride every day. To celebrate Pride month this year, Áine Beamish, Communications officer at Léargas compiled a short list of information that we think is interesting, important and useful during the final week in Pride month 2022.

Happy Pride/Bród Iontach!
In May, we hosted an international event in Dublin called Queerasmus. This Erasmus+ Training and Cooperation Activity for youth workers and those working with LGBTQ+ young people, was attended by 27 people from 13 European countries. Attendees exchanged ideas, shared best practices and collaborated on how to best support LGBTQ+ young people through Erasmus+.
To celebrate the European Year of Youth 2022, Microgrants are available to youth organisations. The grants of up to €5000 per project are available. Bradóg Youth Service received a grant and celebrated with a Pride launch party.
You can learn more about how your organisation and community can connect with Erasmus+ and European Solidarity Corps contact Léargas today.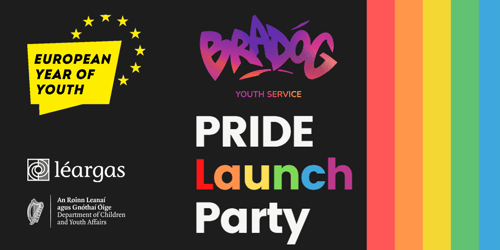 Pride Month
Pride Month is celebrated every June as a tribute to those involved in the Stonewall Riots. The Stonewall Riots, also called the Stonewall Uprising, began in the early hours of 28 June 1969, when New York City police raided the Stonewall Inn, a gay club in Greenwich Village in New York City.
The Dublin Pride Parade is a celebration of LGBTQ+ people and culture; the celebration and colour of the parade play an essential role in promoting diversity, inclusion and belonging within society.
The first Dublin pride parade was on Saturday, 25 June 1983.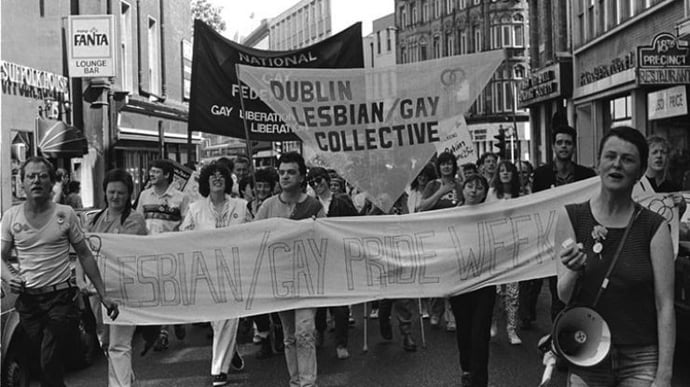 image credit: Clodagh Boyd Her.ie
Read about Ireland's journey to Pride: 40 years since Ireland's first Pride Week
The theme of Dublin Pride 2022 is 'Uchtach', which is the Irish word for courage.
image credit: Dublin LGBTQ Pride
Pride festivities generally last for the entire month of June, and the annual Dublin PRIDE parade is on the last Saturday of June.
Inishowen held its very first Pride this year with over 1000 people in attendance.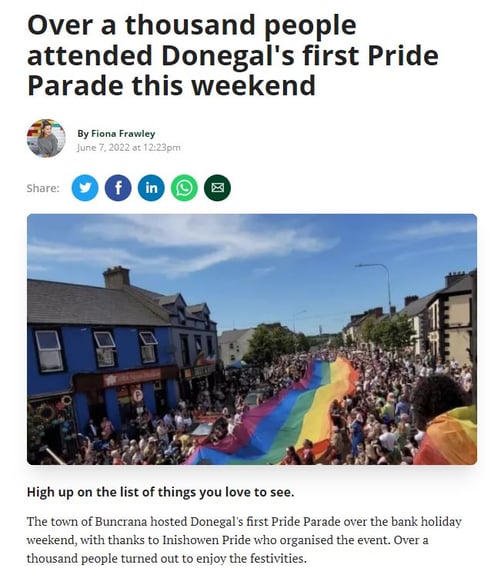 Pride events around Ireland
PRIDE events take place throughout Ireland, and you can see parades dates and events here:

Inishowen Pride
Limerick Pride
Cork Pride
Mayo Pride 02 July
Belfast Pride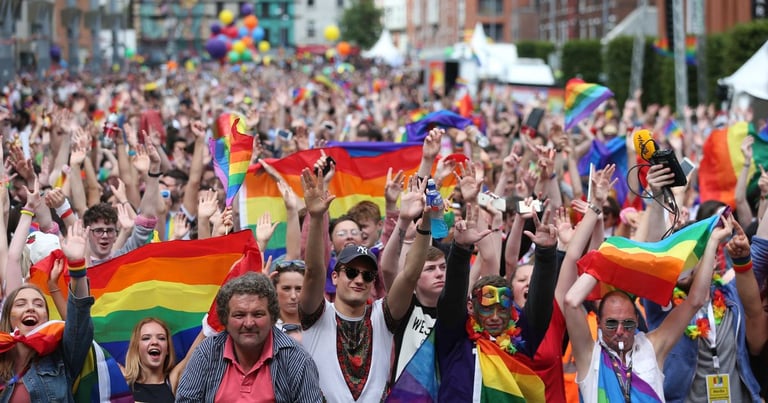 Support:
Seven ways you can be an LGBT+ ally at work
Coming out: A survival guide for young people
Free events:
Loads of free events are happening this week, including:

Insight Matters into your Intersectionality and Mental Health

An Bál Aiteach ag Bród at Conradh na Gaeilge

Introduction to Fashion Upcycling

Introduction to Bike Maintenance

Radio & Media Training with Phoenix FM

Literary evening with Philippa Ryder
Have a safe, happy and healthy Pride from all of us at Léargas.
Don't miss these upcoming Léargas events! Through Léargas you can access training and support for the following sectors:
Youth and Volunteering
School Education
Adult Education
Vocational Education and Training
You can sign up directly via our Eventbrite page!
Contact Suzanne for information about European Solidarity Corps
Contact Jane for information about Erasmus+.
Signup to our Newsletter